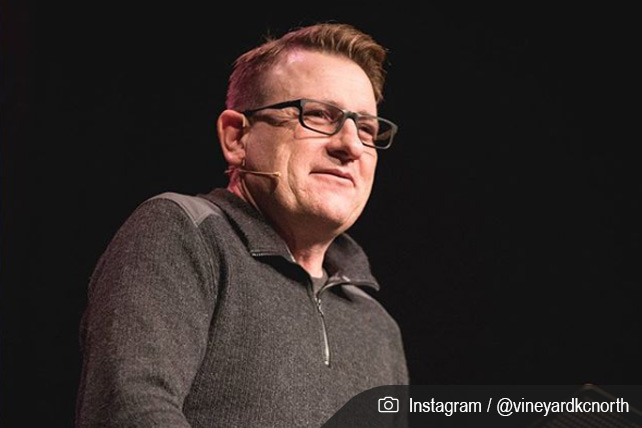 Fred Herron, senior pastor of Vineyard Church in Kansas City, Missouri, has stepped down from his position of leadership. On Nov. 18th, church leaders announced that Herron was "suffering from various health issues, including addiction and dependence issues," and that he had also admitted "moral failure" to his wife.
Executive pastor Tony Wilks described the week following the news about Herron as the "worst week" of 22 years of leading in ministry. He said, "There's stuff I found out that I had no idea. This has wrecked my world."
The Pastors Read a Statement
Herron is now at a treatment facility outside of Kansas City and is on an indefinite leave of absence. Several of the church's pastors spent 40 minutes reading a prepared statement to the congregation, sharing how the news personally affected them, and offering words of encouragement.
Acting president of the board Norm Rasmussen said they'd been watching and praying for Herron for the past few months, realizing something was wrong. Nevertheless, leaders, and even Herron's wife, only recently became aware of the depth of Herron's struggles. The pastors did not specify what those were.
Before reading the statement, Rasmussen told anyone visiting the church for the first time that their presence there that morning was not an accident. He wanted visitors to see that "we are a church that is learning to love one another, and you're here today because we want to love you."
Pastor of adult ministries Roger Sodsod emphasized that all people make mistakes and that he loves Herron. Still, he said he was heartbroken by the news and feels "hurt and betrayed." Sodsod said he was praying for restoration and healing for Herron's relationships.
The pastors' statement stressed that Herron's failings did nothing to discount his years of ministry, the fact that he had led many to Christ, or the love they had for him. They urged the church body to turn to Jesus for hope and healing, pray for the Herrons, and support each other. What happened, they said, is an opportunity for their church to grow.
Pastor Wilks said, "What I love about Vineyard Church is we're not a perfect church. But we are a perfect church for imperfect people."
The church's response indicates exactly that, with many people expressing their compassion and support on Facebook.
One woman commented, "Fred I love you and will support you through your healing however long it takes. And we want you back when your [sic] ready. Janet you are in my heart. I'm holding you and Fred up in prayer daily along with the rest of Fred's family. The church and staff will also be in my prayers. I believe we are under attack because we are doing so much of God's work."
Another offered prayers, saying, "This church was instrumental in guiding my path back towards Jesus."
Yet another user commented, "My heart is so sad… I've noticed a difference in Fred through the videos over the past few months and wondered why he has looked so tired and drained. I'm glad he is seeking treatment and I'll be praying for full restoration with his relationships and praying for Janet. Vineyard is and always will be our church home."
In an interview, Rasmussen stressed that the church must be a place where broken people can receive grace and move toward redemption and freedom. He said Vineyard is committed to do that for every believer, Herron no less than anyone else.
"This is not a story about a failure," he said. "This is a story of hope."