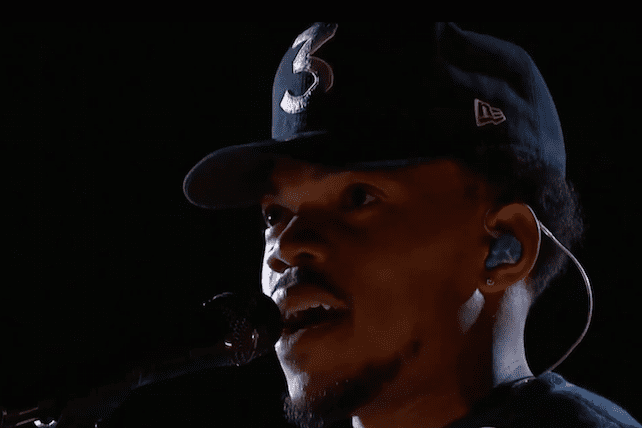 Chance the Rapper is taking a sabbatical in order to study the Bible.
In an Instagram post, the Chicago, Illinois, native said:
I'm going away to learn the Word of God which I am admittedly very unfamiliar with. I've been brought up by my family to know Christ but I haven't taken it upon myself to really just take a couple days and read my bible. we all quote scripture and tell each other what God likes and doesn't like but how much time do we spend as followers of Jesus to really just read and KNOW his Word. [Note: This post and Chance's music contains language some may find offensive.]
Chance the Rapper's Faith
Chance, whose real name is Chancelor Bennett, has been nominated for multiple Grammy Awards and has won three. Born in 1993, Chance's rap career really took off in 2013 with the release of his album Acid Rap.
Something that has set the artist apart is how much he sings about God and Christianity in his music. His popular song "Blessings" says, "I'm gon' praise Him, praise Him 'til I'm gone." Another of his songs says, "Now watch how I move, different chapters / Decisions, missions, visit pastors / Everybody finally can say it out loud, 'My favorite rapper a Christian rapper.'"
He also isn't shy about speaking about his Christian beliefs in interviews and on social media. In a tweet from a couple years ago about how he was going to quit smoking, he said, "All things are possible thru Christ who strengthens me." A more recent tweet of his says, "Every time I feel the grace it feel like God just said, 'Hello, there.'"
Chance gave a memorable performance of "How Great Is Our God" at the 2017 Grammy Awards. When he accepted his Grammy for Best New Artist he gave God the glory for his wins, as well for providing him support from his parents and others in his life.
Some Christians will find Chance the Rapper's professions of faith to be controversial, mainly given how many of his songs contain language some consider offensive. However, others point out that rap has the ability to wrestle in a raw way with the struggles that all of us, even Christians, face, and therefore the language is justified.
In his Instagram post, Chance said that one of the factors driving him to want to study the Bible is his desire to help educate his nephew. The Instagram post that followed his sabbatical announcement was an image of a page that, according to Christianity Today, is from A Diary of Private Prayer by a Scottish theologian named John Baillie.
View this post on Instagram
It's not certain how long his sabbatical will last, although he did say he would be back "soon enough." Chance is scheduled to perform on Dec. 20 in Chicago.
In the meantime, Chance seems to be making good use of his time off. His latest post on Dec. 12 was of a few verses from Galatians. He invited his followers: "Anybody wanna read thru Galatians with me? It's really short."