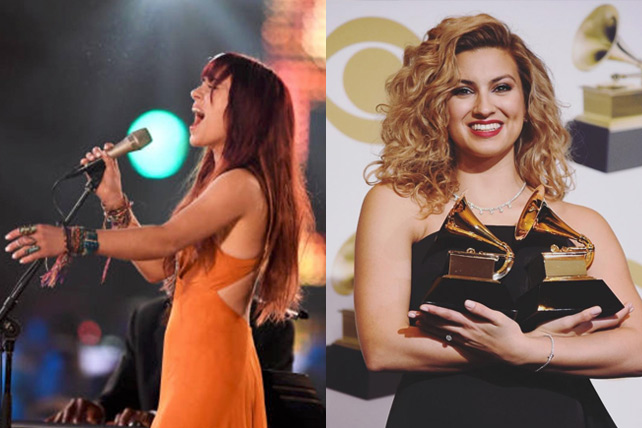 Christian artists Lauren Daigle and Tori Kelly both had big wins at last night's 61st Annual Grammy Awards. Daigle won the award for Best Contemporary Christian Music Performance/Song for "You Say" and also won Best Contemporary Christian Music Album for Look Up Child. These are Daigle's first Grammy wins, although she has previously been nominated for Grammy awards in 2015 and 2016. In her acceptance speech for her album, Daigle said,
This record, I'll tell ya, it just came out of a season of realizing, we're just supposed to look up. With everything that we do, we're supposed to have love, and I love that music gives us the opportunity to look up, it gives us the opportunity to spread love to the entire world, and so I just want to thank Jesus for letting me be a part of this.
In an interview with Billboard after receiving her awards, Daigle explained that Look Up Child was a response to the pressures and burdens of adult life, among them the way people often take on others' opinions and labels. But children don't live that way, and Daigle doesn't want to either. She gave an example of how when a child gets a lollipop, the experience is practically on par with going to Disney World:
It's like the most exhilarating thing, right? So I was like, how do I embody that in the midst of what I do? And I think the challenge has been maintaining that, keeping that joy and that zeal alive through all of the obstacles that come with just simply being in the music industry.
Daigle has certainly had her fair share of pressures in recent months. She drew criticism for appearing on Ellen and then sparked more controversy when she would not say that homosexuality was a sin after being asked about it point blank.
Nevertheless, Daigle has had a wildly successful year, breaking records and using her new-found influence to help those in need. Not only is Look Up Child holding strong in the No. 1 position on Billboard's Top Christian Albums chart (it's currently in its 19th week there), but with her song "You Say," Daigle has the set the record for being a female artist with the longest-running song at the top of Billboard's Hot Christian Songs chart.
Tori Kelly Wins in Gospel Categories
It was a night of firsts for Tori Kelly as well. The singer won her first Grammy, one for Best Gospel Performance/Song and another for Best Gospel Album. When Kelly accepted her Grammy for her song "Never Alone," she said, "I have to thank Jesus. Thank you so much for everything."
In an interview with the New York Daily News, Kelly said that she has faced a lot of closed doors and rejection in her musical career, something she's been pursuing since she was 12 years old. She dedicated her awards to women going through similar experiences, saying, "This is for any girl who's going through that and feels that they're not good enough."
Despite the hard road, winning a Grammy has been a childhood dream for Kelly, who could not believe that she won two in one night. On Instagram, she wrote, "what a wild day…i'm so incredibly grateful & will never forget this feeling. all glory to God."