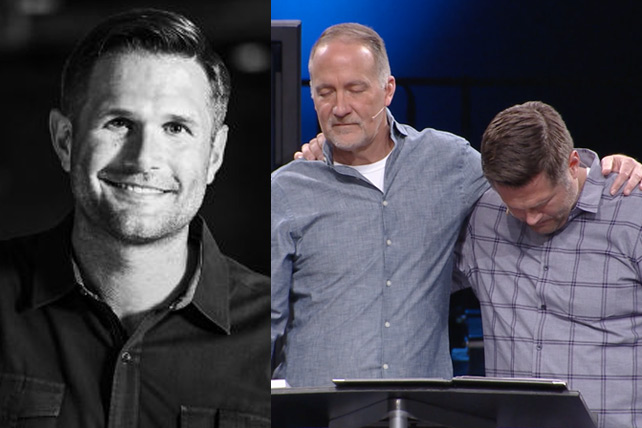 Pastor Dave Stone announced he is handing over the reins of Southeast Christian Church to teaching pastor Kyle Idleman. Stone has served at Southeast for 30 years and is now ready to give leadership of the megachurch over to Idleman.
"No one is better prepared for this role," Stone told the congregation on Sunday. "[Kyle's] commitment to Christ, his love for his family, his generosity, his humility, the way he's handled success at a young age are things that are rare to find in the evangelical world."
The church has six locations around Louisville, Kentucky and Jeffersonville, Indiana—an area known affectionately as "Kentuckiana" to residents of the area. According to a local news outlet, the church reports an average weekly attendance of more than 21,000 churchgoers. 
Kyle Idleman's Predecessor Believes in Him
Stone served as the senior pastor of Southeast for 13 of his 30 years at the church. He said he wouldn't have been able to stay as senior pastor longer than a year if it hadn't been for Idleman, whom he credits as being an encourager and a humble leader. "Being in the second seat isn't always easy to do, especially since [Idleman's] done it for 17 years."
"Kyle was raised with a heart for ministry," Stone told the congregation. He credits Idleman's parents with raising him in a robust household of faith which has prepared him for ministry.
Stone himself is following the lead of Southeast's former senior pastor, Bob Russell, who handed the reins to Stone in 2006. Russell was 62 at the time, and felt the church would benefit from a younger leader. "He chose to step aside because he knew that the way to influence a church, and to help it grow younger, is by having younger leadership," Stone told reporters.
Stone believes the best way to empower new leadership is to stay away from Southeast for six months to a year after his leaving. However, on Sunday he said he would be staying for another two months to support Idleman in his transition. He will preach four more times and his final weekend of service is scheduled for May 25 and 26. He concluded his speech by asking the group to pray for Idleman and his wife, DesiRae.
Idleman then had a chance to speak to the congregation, joking that Stone had asked him only to come up for prayer, but that he wanted to talk because he was "in charge" now. The deferential Idleman expressed his gratitude to Stone, who he recalls meeting when he was just 16. Idleman went to a conference with his youth group and heard Stone preach at the conference. He met Stone and felt the meeting was significant at the time, though he wouldn't know why until many years later. Stone has been an "ultimate" example for Idleman in ministry and humility, Idleman said.
He also wanted to express his desire that the transition ahead of the church not be about himself or Stone. Rather, the focus should be on getting the church to the next stage of its growth. "God could use anybody he wants to to do this," Idleman said, emphasizing the point. "It's not because we've earned it, or we deserve it or we've worked hard enough, it's not because we're gifted enough or talented enough or creative enough. It is all God's grace."
The announcement concluded in Stone praying for Idleman. Stone announced his intentions to retire from the senior pastorate position in September last year.