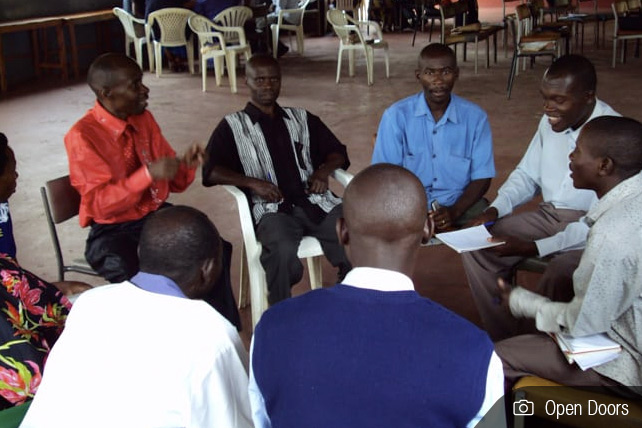 A 30-year-old pastor in the city of Garissa, Kenya, was beaten unconscious by Muslim extremists the night of Friday, March 8. The attackers used wooden clubs as they assaulted Pastor Abdul (whose surname is being withheld for safety), breaking his thigh bone and leaving him in a pool of blood. Pastor Abdul told Morning Star News,
"Apart from the thigh pain, I now feel pain all over my body, especially the waist, the back and my left leg near the ankle. I'm almost unable to bear the pain. My family is in great fear, and Christians have located us to another place." Pastor Abdul has three children, ages three, five and eight.
Pastor Abdul, who has been a Christian for seven years, leads a church of 30 former Muslims, who meet in secret on different days of the week. He was on his way home from leading a prayer meeting when he was attacked. He says he does not know the people who beat him, but they told him they had been tracking his activity, as well as his "evil plans of changing Muslims to Christianity." Pastor Abdul's neighbors found him after the attack and took him to the hospital.
Christian Persecution in Kenya and Somalia
Open Doors, which monitors and supports persecuted Christians throughout the world, ranks the persecution level in Kenya as "Very High." Even though Kenya is a majority Christian nation, there is still a significant amount of oppression from Muslims, particularly in areas of the country such as Garissa.
According to Open Doors, "Although all Christian communities are affected by persecution, those who convert to Christianity from the Muslim faith face constant threat of attack from even their closest relatives… Organized corruption and crime are also a serious problem. Biased officials often fail to confront violence against Christians."
The fact that Somalia is a neighboring country has a significant impact on Christians in Kenya. Open Doors classifies the top 50 countries in the world with the highest levels of Christian persecution on something called the "World Watch List" (North Korea currently holds the number one spot). While Kenya is 40th on the list, Somalia is third.
Morning Star News says that "Somalia's constitution establishes Islam as the state religion and prohibits the propagation of any other religion, according to the U.S. State Department. It also requires that laws comply with sharia (Islamic law) principles, with no exceptions in application for non-Muslims."
The city of Garissa is around 100 miles from the border of Somalia, and Morning Star News notes that the population of Garissa is "predominantly ethnic Somali." There are numerous reports from Voice of the Martyrs (VOM) of attacks against non-Muslims in Kenya, particularly from the Muslim terrorist group, Al-Shabaab (which is affiliated with Al-Qaeda and is based in Somalia). According to VOM, Al-Shabaab "has targeted Christians in Kenya and Somalia for years."
Says Pastor Abdul, "Our prayer for now is to get a safe place for my family. My life and that of my family is at stake."