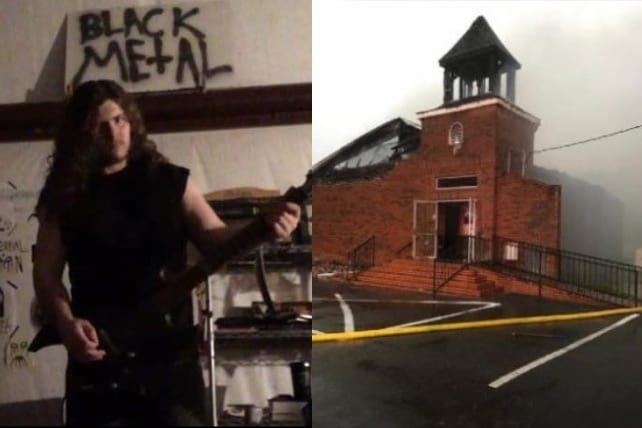 A white man whose father works in law enforcement has been arrested for allegedly burning down three historically black churches in Louisiana. Holden Matthews, 21, faces state charges, according to the fire marshal, and could face federal charges if investigators determine the crimes were hate-related.
Within a 10-day span, late-night fires in rural St. Landry Parish destroyed three Baptist churches that were each more than 100 years old. The buildings were empty at the time, and no one was injured.
St. Landry Sheriff Bobby Guidroz says Matthews is the son of a deputy. "Holden's father is an employee of mine, a fine man," Guidroz says. "He was shocked and hurt as any father would be… He was in terrible shape."
"Black Metal" May Have Played a Role
A motive hasn't been confirmed, but officials point to possible clues. "Black metal" music (also known as Satanic metal) is a major theme of a Facebook page reportedly belonging to Matthews. Some bands espouse neo-Nazi beliefs, and a sub-genre of black metal was linked to church arsons in Norway in the early 1990s.
In Louisiana, church members and officials say they're trying not to jump to conclusions. "We need to let them investigate, let the evidence come out," says Earnest Hines, a deacon and 40-year member at Mount Pleasant Baptist Church in Opelousas.
"I don't know what was in [the suspect's] heart, but I can say it cannot be justified or rationalized," says Governor John Bel Edwards. "These were evil acts. But let me be clear about this, hate is not a Louisiana value."
The NAACP called the church fires "domestic terrorism" and "a reflection of the emboldened racial rhetoric and tension spreading across the country."
Local Churches Had Been on Edge
Pastors and church members had taken extra precautions since the fires began on March 26. The Rev. Dwight Brown, whose church is in the affected area but didn't want it named, says he slept in the building two nights last week. "I could not sleep in my bed knowing the church I was pastor of for 15 years could be burned down," he says. Brown, who worked in law enforcement for 30 years before becoming a pastor, also removed the church sign, installed cameras and left lights on inside the building. Members had been walking by the church to check on it, as well.
"I was afraid my church was going to be targeted," says Brown. "It's 130 years of history. I couldn't take that chance." Other pastors reportedly have been sleeping in cars outside their churches.
Although the fire marshal declared the community is now safe, residents remain cautious. "I would like to know whether [the suspect] was working alone or not," says Harry Richard, pastor of Greater Union, the second church that burned. He's also been thinking of other black congregations that have suffered various attacks, as well as the big-picture implications. "I think that God is speaking to this nation and telling us that it's time to come together," he says.