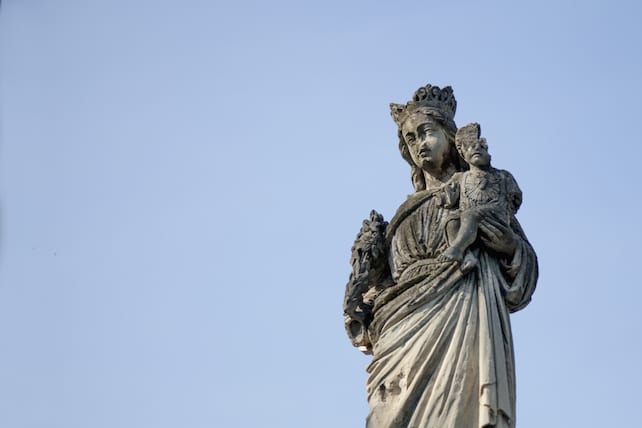 Although this week's fire at Notre Dame Cathedral in Paris wasn't caused by arson, the incident is drawing attention to an alarming string of human-caused devastation at other French churches. Last year, 1,063 acts of vandalism and "anti-Christian acts" occurred at houses of worship, many of them Catholic.
"Every day, at least two churches are profaned," says one lawmaker.
During the first two months of 2019, attacks on churches spiked 25 percent compared to the same months in 2018. Almost 50 attacks occurred in February 2019 alone.
France is now the "worst country in Europe" for "secularist, anti-religious intolerance," according to Ellen Fantini, executive director of the Observatory on Intolerance and Discrimination Against Christians in Europe, a Vienna-based watchdog group. In France, she says, attacking churches is considered a way to attack authority and the patriarchy.
Sacred Symbols Are Being Targeted
Throughout France, altars, statues, windows and cemeteries are being vandalized. Although some property thefts have occurred, destruction seems to be the focus.
Last month, the historic Saint Sulpice in Paris was reportedly set on fire just after noon Mass. And at a basilica built in 1135, vandals smashed stained-glass windows and caused extensive damage to an organ that's almost two centuries old.
On February 4 at St. Nicholas Catholic Church in Houilles, the altar cross was thrown to the ground and a statue of Mary destroyed. The next day, an altar cloth was burned and crosses and statues were smashed in Lavaur. And on February 6, vandals smeared feces on the cross at Notre-Dame des Enfants in Nimes. They also scattered consecrated host outside the church.
The Eucharist was scattered at the Church of Notre-Dame de Dijon in Cote-d'Or in early February, as well. Vandals there clearly wanted to hit the "heart of the Catholic faith," says Father Emmanuel Pic. "Nothing of value has been broken, but it is the intent that is very shocking. This is what characterizes profanation." The priest adds that the responsible parties obviously knew the host was "a very strong symbol" for worshipers, who believe it becomes Christ's body after consecration.
Fantini, from the watchdog group, says targeting symbols points to "a very personal attack on Catholicism and Christianity, more than spray-painting a slogan on the outside wall of a church."
Christianity faces 'rising hostility' in France 
Evangelical Christian churches also have sustained damage. At Hope and Life Church in Angoulême, vandals sabotaged the sound system and threw paint on walls, chairs, a piano and Bibles. Pastor Joseph Miall said the perpetrators, with their "willingness to destroy," seemed to be trying to prevent worship from occurring.
Investigators don't know if the attacks throughout France are linked. Only one arrest has been made, after a man confessed to the incident in Houilles.
"The perpetrators haven't left many clues as to their identities," says Fantini, "especially compared to similar incidents in other countries where political or social slogans are used in graffiti. We can surmise that the main actors are anarchist, feminist and Islamist activists, based on what we've seen in the past in France." 
In 2016, Islamic jihadists killed Jacques Hamel, an 85-year-old Catholic priest, while he was celebrating Mass at a church in Normandy.