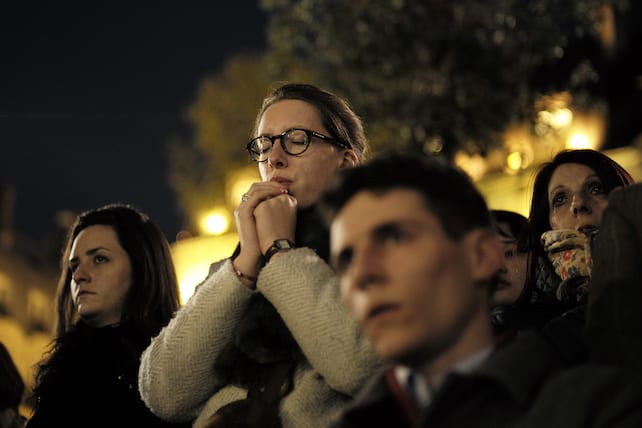 Parisians knelt in the street yesterday, praying and singing as hundreds of firefighters struggled to save the iconic Notre Dame cathedral. The fire has since been extinguished, and officials are investigating its cause. Even though the spire of Notre Dame collapsed, the main structure has been saved, in addition to many of the cathedral's relics.
"Notre Dame of Paris is our history, our literature, our imagination. The place where we survived epidemics, wars, liberation," said French President Emmanuel Macron. "It has been the epicenter of our lives." Macron cancelled his plans of addressing the French people that evening in order to be at the scene of the burning cathedral. While there, he promised to rebuild Notre Dame and to launch a fundraising campaign for that purpose.
What Happened
Fire alarms went off around 6:30 Monday evening while 1,000 to 2,000 people were attending mass at Notre Dame. Everyone got out safely, and no deaths have been reported. The only injury reported so far has been from a firefighter at the scene. Macron praised the "extreme courage" of the firefighters, who had an uphill battle trying to subdue flames consuming an 850-year-old building made of timber and lacking modern fire safety systems. At this time, officials believe that the fire did not start as a result of arson or terrorisim, but was an accident related to the renovations that Notre Dame had been undergoing.
Tragedy Strikes a Global Landmark
Immortalized in Victor Hugo's The Hunchback of Notre Dame, more than 13 million people visit the cathedral every year, according to USA Today. Parisians are grieved at the near loss of what is both a significant religious and cultural landmark. There have been many videos posted online of people standing or kneeling and watching the blaze while singing "Ave Maria."
Ave Maria pic.twitter.com/lb6Y5XV05a

— Ignacio Gil (@Inaki_Gil) April 15, 2019
Some cried and hugged each other. One American tourist who was present at the incident said, "It's the saddest thing I've ever witnessed—the crowd standing there, a lot of people crying. It was just a horrible tragedy."
Thankfully, first responders were able to save not only the building's structure but also several notable works of art, including Notre Dame's famous "rose windows." Other salvaged relics include the Crown of Thorns that some believe Jesus wore at the time of His crucifixion, the Tunic of Saint Louis, and a series of paintings called the "Mays de Notre Dame." One reason so many relics did escape is that people at the scene made a human chain in order to rescue them. The facade of the building, its twin bell towers, and the Great Organ also survived. The fate of other many other artifacts, however, remains unknown.
The fundraising campaign to rebuild the cathedral is underway as promised, and USA Today reports that over $675 million has already been raised. Those who have contributed so far include French billionaire François-Henri Pinault, who is married to actress Salma Hayek, and French cosmetics company, L'Oreal. Apple CEO Tim Cook has promised that Apple will contribute to the rebuilding, but has not yet specified how much.
Paris' deputy bishop, Thibault Verny, told USA Today that while what has happened is sorrowful, it is also an opportunity for people in the country to support one another. Said Verny, "On (Easter) Sunday we will celebrate the resurrection. My message will be one of hope and that we need to push ahead."