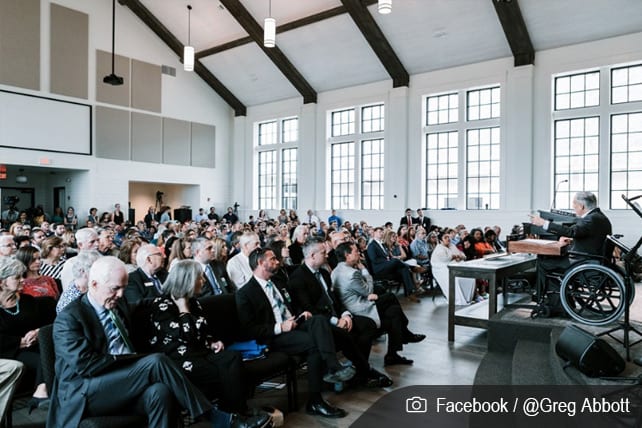 A year and a half after what has been called the deadliest church shooting in America, the members of First Baptist Church of Sutherland Springs have held a service dedicating their new church building and remembering those they lost. KENS 5 News reports that the phrase "Evil did not win" has become a theme for the church members in the shooting's aftermath.
"Evil's going to continue to lose," said Pastor Frank Pomeroy. He told KENS 5 that the building is a testament to the fact that even though the congregation has suffered, God's joy still comes in the morning. "We are moving forward," he said. "There are still highs and lows, but I think even on the lows, we're still climbing."
18 Months Ago
On Sunday, November 5, 2017, Devin Kelley opened fire during First Baptist's morning service in Sutherland Springs, Texas, which is about 30 miles east of San Antonio. Kelley, 26 years old, was armed with an assault rifle and a handgun and started shooting while outside the church, making his way inside. He killed 26 people, many of them children, and injured 20 more. One of the children who died was Annabelle Pomeroy, the 14-year-old daughter of Pastor Pomeroy and his wife, Sherri.
As Kelley was leaving, a Sutherland Springs resident confronted him and engaged him in gunfire, pursuing the gunman as he fled the scene. A high-speed chase ensued. Kelley eventually crashed his vehicle and was found dead from what were apparently self-inflicted gunshot wounds.
In an interview one year after the shooting, Pastor Pomeroy described what it was like dealing with his grief: "In some aspects it seems like it's been a lifetime. In other aspects, it seems like it was just yesterday. You know I can have a great worship service and everything's going well, but then I can go in Annabelle's room or something and it's," he snapped his fingers, "it's real quick."
The Dedication
Texas Governor Greg Abbott and Senator John Cornyn were both present and spoke at First Baptist's dedication service. Senator Ted Cruz also spoke through a video message. Both Gov. Abbott and Sen. Cornyn previously visited the church right after the shooting, says The New York Times.
"The opening of this new worship center ushers in a new era of healing for this congregation and for the entire town of Sutherland Springs," said Governor Abbott, as reported by KENS 5 News. "I have no doubt that God will continue to work through this community to write the next chapter for the remarkable and faithful people of Sutherland Springs."
J.D. Greear, president of the Southern Baptist Convention, was also present and spoke at the dedication.
"What makes the Christian message distinctive is not that it keeps us from tragedy, but what it does for us in the midst of tragedy," @jdgreear #SutherlandSprings @NAMB_SBC @_SBTC pic.twitter.com/v837lG631I

— Todd Unzicker (@ToddUnzicker) May 19, 2019
During the service, the names of the deceased were read aloud, and a bell was rung after each name. The bell had hung in the old building before being refurbished and placed in the new one.
Pastor Pomeroy said, "The bell was something that, every Sunday morning, the kids would run to me, race to me to see who would get to me first, who could ring the bell to let Sunday school know that it was time for church to start. Many of the children that rang that bell are no longer with us…and for that reason, that bell means even more now to me than it did previous."
The new building's property and the building's construction were funded entirely by donations, and The New York Times also reports that over 100 companies "had offered to contribute materials, labor and other services." According to KENS 5, the new facility has an education center and is equipped with safety measures, including a security team.
Despite their grief, the pastor and the members of his congregation are continuing to trust the Lord in the midst of their sorrow and unanswered questions.
"We're still praising God, we're still focusing on God," Debbie Braden told KENS 5. "If I didn't have my faith, I don't think I would have gotten through it." Braden lost her husband, Keith, on the day of the shooting.
Said Pastor Pomeroy, "We just refuse to let Satan win."