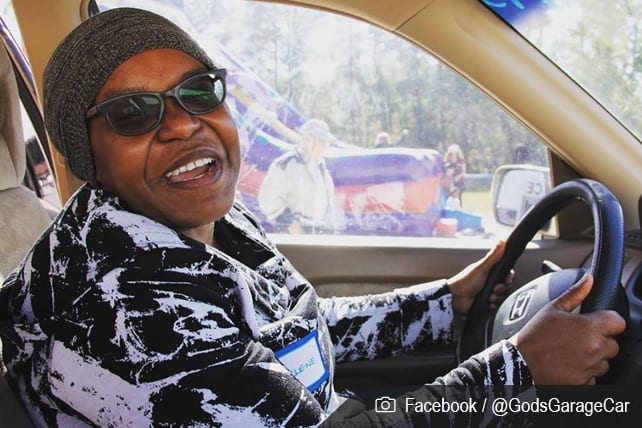 A former pastor is serving single mothers, widows and wives of deployed military by repairing their vehicles without charging for labor and even by donating vehicles to them. When he opened his shop, PC ("Pastor Chris") Williams particularly wanted to help women because of how dealers and repair shops sometimes take advantage of women who are vulnerable.
"Sadly there are people who will prey upon just about anyone," Williams told People magazine. "Also, car repairs are so expensive, and where I live, it's rural. So if you don't have a car, you can't get a job. And if you don't have a job, you can't buy a car. It's a cruel dilemma to be in."
Service Born From Personal Experience
Williams lives in Conroe, Texas. His repair shop, God's Garage, has been in operation since 2012 and depends entirely on donations and the help of volunteers. Williams told People that he actually hates working on cars, but "when I saw this need in my community, I decided the solution was to surround myself with guys who know more about fixing cars than I do."
Williams knows firsthand what it's like to struggle to make ends meet while not having a reliable vehicle. On the God's Garage website, he shares, "As I got older, the things that I should have learned, I didn't, as I found myself short on money and long on car troubles." He used to pray to God every morning, asking that his car would start. Because of this experience, Williams says, "I told God that if I could make a difference for people in my situation, I would gladly help them."
One night when he was driving home from church, Williams saw a woman and her daughter walking on the highway. It was dark, cold and raining heavily. He pulled over to give them a ride and realized he knew them from his church and taught the daughter in his class. They told him their car had been in the shop for months and they didn't have the money to pay for repairs. Williams says, "At that moment, I knew I had to do whatever it took to make sure that this kind of thing didn't keep happening without some intervention. I begged and borrowed money to build a shop to repair cars for single mothers, widows and wives of deployed military."
'No Greater Joy'
One single mom named Darlene used to send an Uber to pick her daughter up from practice. Every time, she prayed that God would bring her daughter safely back to her. When she received a car from God's Garage, she exclaimed, "No more Uber!"
Another single mom said God's Garage has helped when she found herself in need after she and her daughter were in a hit-and-run car crash. She bought a used car after the accident, but that car ended up requiring repairs she couldn't afford. Because of God's Garage, the repairs she needed only cost her $100 instead of thousands. She says, "This is not a hand out but a help back up. And that is exactly what my children and I needed. Thank you all!"
One of the God's Garage volunteers told People, "There's no greater joy than seeing a mom finally be able to start her car up and drive it home. And when people donate their old cars and we fix them up and give them away, there's a feeling that's unbelievable. The people are so grateful—their emotion always brings tears of happiness."
Williams told People that God's Garage is doing more than simply meeting a material need. It's also providing "freedom and independence and restored dignity."
While not many of us are able to supply others with working vehicles, anyone can do something to help another person. This is what Williams encourages all of us to do: "No matter what walk of life you're in or what you do, help somebody. No matter your financial status, help somebody. There are so many things that you can do in your community just to reach out and make a difference in someone else's life, and when you do, it makes a difference in your life too."
If you would like to give a cash donation or donate a car, you can visit the God's Garage website here.