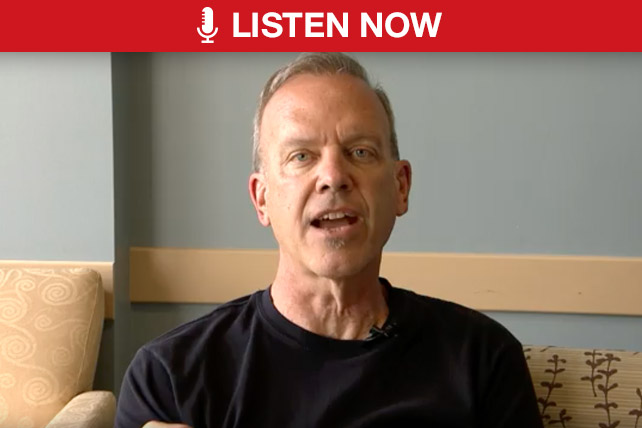 David Fitch is the B. R. Lindner Chair of Evangelical Theology at Northern Seminary Chicago, Illinois. He is also the founding pastor of Life on the Vine Christian Community, a missional church in the Northwest Suburbs of Chicago. He coaches a network of church plants in the Christian and Missionary Alliance linked to Life on the Vine. He writes on the issues the local church must face in Mission including cultural engagement, leadership and theology and has lectured and presented on these topics at many seminaries, graduate schools, denominational gatherings and conferences. David and his wife, Rae Ann, have one son.
Key Questions for David Fitch
– You've been a church planter, pastor, and now a professor. What have you learned over the years about evangelism?
– What do you mean when you say "church on mission"? What would that kind of church look like?
Key Quotes from David Fitch
"The Presence of God…is literally from the first page to the last page of the entire Scriptures, it dominates the Scripture as the way God works in the world."
"There was a time when I thought I had to do twenty hours of work to get a good sermon."
"When I enter the pulpit I need to be present to what God's doing in that congregation."
"There's so much pressure on pastors, especially in the way we think about church, the way we think about metrics…elder boards…and results."
"I'm tempted to call [the emphasis the church is currently putting on impressive metrics] a cancer on what the church is to be because we end up focusing on some wrong things."
"Instead of an institution people come to, [the church should be] a way of life cultivated in a place."
"We make possible that presence to become visible in the lives of those who do not yet know him."
"[When we gather at a meal] it's not a question of whether Jesus will be there but whether he will be recognized."
"We need to get off the idea that for anything to be a legit Christian activity we have to come to church to do it."
Mentioned in the Show:
Northern Seminary
Peace of Christ Church in Westmont
Faithful Presence
Reta Finger's Of Widows and Meals: Communal Meals in the Book of Acts
Seven Practices for the Church on Mission
Luke 24 – Emmaus Road
1 Corinthians 11
David on Twitter
David on Facebook
Other Ways to Listen to this Podcast:
► Listen on Apple: https://itunes.apple.com/us/podcast/t…
► Listen on RadioPublic: https://radiopublic.com/the-churchlea…
► Listen on Stitcher: https://www.stitcher.com/podcast/churchleaders/the-churchleaders-podcast
► Listen on GooglePlay: https://www.stitcher.com/podcast/churchleaders/the-churchleaders-podcast
► Listen on Spotify: https://open.spotify.com/show/3NOo1CepdPQog17rmL7DuT