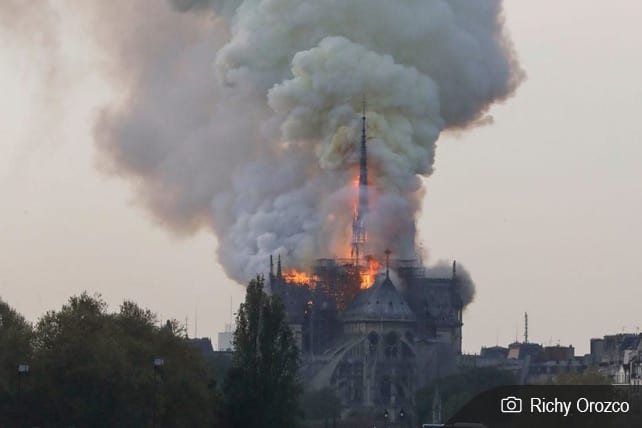 After the historic Notre Dame cathedral suffered extensive damage in an April 15 fire, French billionaires quickly promised hefty contributions for the remodel. But so far, the only payments to repair damages caused by the Notre Dame fire have come from small donations, largely by French and American citizens.
According to an Associated Press report, no funds have arrived yet from high-profile French companies that quickly pledged almost $1 billion in aid. Parent companies and CEOs associated with brands such as Gucci, Louis Vuitton, and L'Oreal "haven't paid—not a cent," says cathedral official Andre Finot. "They want to know what exactly their money is being spent on and if they agree to it before they hand it over, and not just to pay employees' salaries."
Notre Dame Fire Repair Work Has Continued Around the Clock
While big donors wait to see plans and finalize contracts, workers have been busy with less-than-glamorous cleanup. They're building a wooden walkway to remove 250 tons of charred scaffolding, which was being used for a restoration that may have led to April's blaze. They're also removing toxic lead dust, after 300 tons of lead from the roof melted. Paris health officials are urging that children under seven and pregnant women be tested for lead poisoning.
Without a "legal financial mechanism in place to pay the workers," the AP reports, the cathedral has relied on a charity foundation for initial funds. The Friends of Notre Dame de Paris, established in 2017, is transferring more than $4 million to cover the "first stage of restorations," says foundation president Michel Picaud. About 90 percent of its contributions have come from Americans, he says, adding, "Americans are very generous toward Notre Dame, and the monument is very loved in America. Six out of our 11 board members are residents in the U.S."
French President Emmanuel Macron wants the cathedral fixed by the 2024 Paris Olympics, but some experts say work could take decades. Stylistic debates are underway, as architects consider adding modern touches to the edifice. Those uncertainties, as well as France's complex labor laws, all factor in to donor delays.
"It's not as brutal as it sounds"
Representatives of French companies admit they're waiting to see how work progresses. One, who requested anonymity, says rich donors want to contribute to long-standing structures, not to behind-the-scenes cleaning tasks.
L'Oreal's Bettencourt Schueller Foundation says it wants to ensure contributions "fit the foundation's specific ethos, which supports craftsmanship in art," according to the AP.
Celia Verot, director general of the foundation established by energy firm Total, says, "How the funds will be used by the state is the big question. It's not as brutal as it sounds, but it's a voluntary donation so the companies are waiting for the government's vision to see what precisely they want to fund. It's our function as the intermediary to know that the money is directed in line with the donor's wishes."
One of Notre Dame's chief guides, Olivier de Challus, says reconstruction decisions will hinge on experts' yet-to-be-completed structural findings. "It doesn't matter that the big donors haven't yet paid," he says, "because the choices about the spire and the major architectural decisions will happen probably late in 2020. That's when the large sums of money will be required."
After an uproar about massive pledges for Notre Dame, an online campaign was launched to rebuild three historically black churches that were burned this spring in Louisiana.