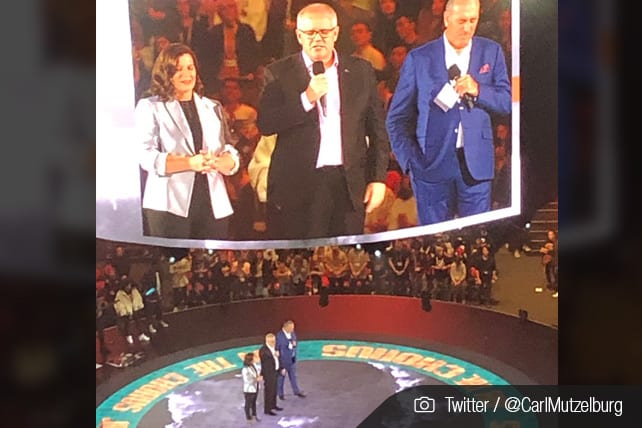 Australian Prime Minister Scott Morrison surprised the crowd at the Hillsong Conference in Sydney, Australia this week by showing up to pray for the nation. Morrison, who is still fresh from his surprising election victory in May, proudly admitted he believes in miracles and prayed for an end to the drought Australia is currently experiencing. He also asked God to "break the curse of suicide" in Australia. 
"We pray Lord that you will break the curse of suicide in this country," Morrison said from the stage at Qudos Bank Arena in Sydney. He stood next to his wife, Jenny, and Hillsong Church Australia pastor Brian Houston as he addressed the crowd for roughly 10 minutes.
Morrison's Prayers at the Hillsong Conference
Morrison was invited by Houston to pray during the opening session of the Hillsong Conference, which is being held July 9 through 12. Covering some of the most pressing topics in the country, Morrison prayed for veterans, young people, remote and indigenous people, even the drought that is currently affecting the country. 
Declaring he still believes in miracles (Morrison called his surprising election victory in May a "miracle"), Morrison asked God to send rain to the nation. He also asked for intervention with the mental illnesses that seem to be driving people toward suicide in Australia. Statistics from 2015 reveal suicide is the leading cause of death for Australians between the ages of 15 and 44. Currently, the suicide rate is 12.6 deaths per 100,000 people. Statistics also suggest the suicide rate among Aboriginal and other indigenous people is double the national average. 
Defining a miracle as something "the world can't see but God can see," Morrison shared how one of his two daughters was born on 7/7/2007 after the couple had struggled with infertility and waited 17 years to have a child. 
Houston asked the political leader what believers in Australia could be praying for the prime minister and his wife. Morrison asked the crowd to pray for humility in leadership, for wisdom, and for grace. "Grace is amazing," he said with a smile. 
Scott Morrison's Faith
Faith is something Morrison is quick to speak about, saying he talks it about it openly because he wants "everyone to feel comfortable talking about their faith in this country."  Morrison took the opportunity in front of the friendly crowd to make a case for protecting the religious freedom of Australia. "It's not the laws that make freedom of religion work, it's the culture that accepts it," he said. 
The Morrison family attends Horizon Church in Sydney, which is a Pentecostal church affiliated with the Assemblies of God. In May 2019, Morrison was elected Prime Minister once again, which he was not projected to do. "I have always believed in miracles," he said during his election victory speech. He ended his speech by emphatically stating "God bless Australia." 
At the Hillsong Conference, Morrison took the opportunity to thank everyone there—regardless of how they voted in May—for their prayers. "It didn't matter where Jenny and I went in the country, there'd be someone come up to us and they'd talk about how they'd been praying for us, people were fasting for us," Morrison said. He also mentioned he got an email from retired tennis star Margaret Court. Court, who went on to start a ministry after her retirement from tennis, was praying for Morrison during the election.
Houston assured the couple that the churches in Australia would continue to pray for them. 
You can watch the entirety of the Prime Minister's remarks below.