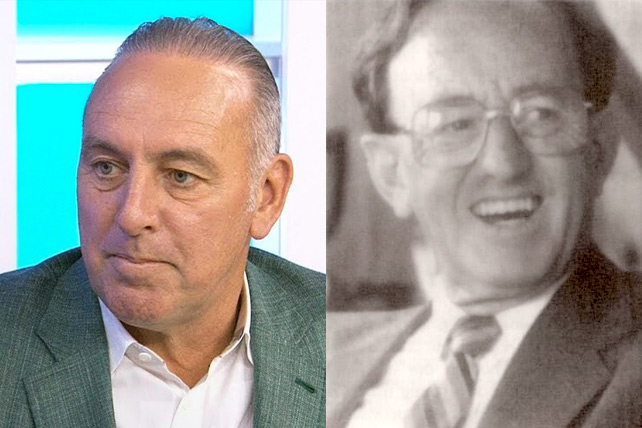 The "sins of the fathers" have put Hillsong Church founder, pastor Brian Houston, back in an uncomfortable spotlight. In 1999, Houston fired his father, pastor Frank Houston, after Frank confessed to sexually abusing nine boys. Now one of the victims, Brett Sengstock, is accusing Brian Houston of failing to report his father to police.
Sengstock, who had previously testified under a pseudonym, recently waived his right to anonymity and appeared Sunday on the Australian version of 60 Minutes. The 56-year-old, who has terminal cancer, says he wants justice served before he dies. "It's just like it's been brushed under the carpet," Sengstock says of the sexual abuse.
Hillsong, the Australian megachurch founded by Brian Houston and his wife, has issued multiple statements throughout the years about the situation. In response to Sunday's TV program featuring Sengstock, Hillsong states:
"While Pastor Brian is incredibly grieved on behalf of the victim, and acknowledges the inexcusable crimes committed against him, it is misleading that the report failed to mention the many who knew about this issue before it came to his attention. Pastor Brian was the one who actually took action when he learned of it as evidenced to by the transcripts of the royal commission readily accessible to the public. From the day Frank Houston was confronted by Pastor Brian, he never preached again. … Nothing was 'brushed under the carpet.'"
The History of Frank Houston and Sengstock
During the 1960s and 1970s, Pentecostal pastor Frank Houston led the Assemblies of God denomination in New Zealand. He also founded the Sydney Christian Life Centre, which expanded into more than 20 churches throughout New South Wales and overseas. Sengstock says Frank Houston sexually abused him regularly from ages 7 to 12, while staying at the boy's home in Sydney.
Brian Houston, who founded Hillsong in 1983, served as head of the Australian branch of the Assemblies of God from 1997 to 2009. When his father, Frank, confessed to being a sexual abuser, Brian "immediately removed him from ministry," according to a Hillsong statement from 2015. The year prior, a statement from Houston said:
"There was no delay in action. From the moment we knew and [my father] confessed, his ministry stopped. I then consulted the elders of what was then Sydney Christian Life Centre and we referred the matter to the national executive of the Assembly of God."
But Sengstock now says that wasn't enough. He believes Brian Houston should have contacted police and adds it was a conflict of interest for Brian to continue serving as the denominational leader while the church body investigated his father.
Sengstock says Frank Houston paid him $12,000 and asked for forgiveness but says no apology or offers of counseling came from the church. Frank received a retirement package in 2000 and died in 2004.
The Royal Commission Investigation
Australia's Royal Commission into Institutional Responses to Child Sexual Abuse has been issuing findings about sexual crimes against children since 2013. Brian Houston appeared before the commission in 2014 because of his father's history of abuse. After the hearing, Hillsong said in a statement that it fully supported the commission and its work because "attempting to cover up child abuse is pure evil."