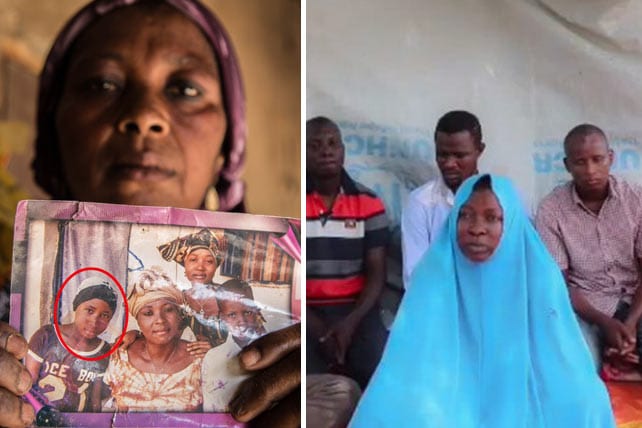 A woman who identifies herself as a Christian aid worker is seen on a proof-of-life video that is circulating on social media. Grace Taku says she and five other aid workers were abducted by a Boko Haram-affiliated group as they were traveling home from work last week. On the video, Taku claims Leah Sharibu is dead. However, the video has not been verified by the Nigerian government and Sharibu's mother is not convinced her daughter is dead. 
"We, along with other observers, find the claim highly incredulous," a spokesperson for Open Doors, an organization that monitors worldwide Christian persecution and has a field team in Nigeria, says. "Grace is clearly traumatized and under immense pressure as she tries to relay a lot of information."
Additionally, the Nigerian government has released a statement about the video, in which it neither confirms nor denies the statement that Leah Sharibu has been killed. The office of Nigeria's President Muhammadu Buhari says they are currently in contact with the captors to negotiate the aid workers' release. The statement also mentions Sharibu, saying: "On Leah Sahribu…aside from the captured aid workers, there has been engagement with the insurgents to free her, a religious leader and all other abducted persons."
Leah Sharibu, Others Not Released
Taku says she is a Christian and works for Action Against Hunger, an international non-governmental organization working in Borno State, Nigeria. 
The following is a transcript of the statement Grace made on the video, which has been circulating widely on the internet:
My name is Grace, I work with Action Against Hunger, an NGO in Borno State; my base is Damasak. We went to work on Thursday, July 18, 2019. On our way back to Damasak by Keneri/Chamba ward, we were caught by an army called the Kaliphas and they brought us here. We don't know where we are.
I want to beg the Christian Association of Nigeria because I am the only Christian among the six of us here. I want to beg CAN to please do something about me to see how I can be released. I call on Borno State.
I beg Action Against Hunger. We have families, some of us have children. We are Nigerians who are working for Nigerians. I am begging please, I am begging again; please do something to see that we are released because this has happened in the Red Cross before where some ladies were caught, Hauwa and Zipporah. They also asked to be released but because of Nigeria did not do anything about it, they were killed.
I am begging on behalf of all of us. I don't want such to happen to us and it also happened again with Leah and Alice, because Nigeria could not do anything about them, they were not released they were also killed.
Rebecca Sharibu: 'My Hope Is Alive'
As for the alleged killing of Sharibu, Nigerian news outlet The Nation spoke with Rebecca Sharibu, Leah's mother. She says "No matter how long it takes, my hope is still alive that my daughter will come back alive from Boko Haram. I still look forward to that day and I am confident that she will return." 
A Nigerian activist, Reno Omokri also took to Twitter to share information he says he obtained from two journalists who allegedly have access to Boko Haram. Based on this information, Omokri does not believe Leah Sharibu is dead, either. 
I've been informed by 2 journalists with access to Boko Haram that the faction claiming Leah is dead is NOT the one that abducted and holds her. I'm told Leah is ALIVE. I put aside my differences with Gen @MBuhari and VOW not to oppose him going forward if he'll #FreeLeahSharibu pic.twitter.com/MKYAodN8Op

— Reno Omokri (@renoomokri) July 26, 2019
Omokri has been outspoken over President Buhari's seeming lack of concern over Leah's plight.
Through her media interview, Rebecca Sharibu appealed to Leah's captors, saying "I also want to still appeal to the people that are holding my daughter to please have mercy on her and release her without any condition. She does not know anything. What has she done to deserve what she is going through?"
Recently, Rebecca appealed to the United States to help in rescuing her daughter.
President Buhari Does Not Look Good
This latest abduction of innocent people by an ISIS and Boko-Haram-affiliated group in Nigeria is reminding people of the government's inability to ensure Christians' safety in Nigeria. David Curry, the CEO of Open Doors, says that if the report of Leah's death proves to be accurate, it will mean that President Buhari and his government have "abandoned international standards of human rights by failing to provide even the most rudimentary protections to religious minorities, and to make honest efforts to hold violators to justice."