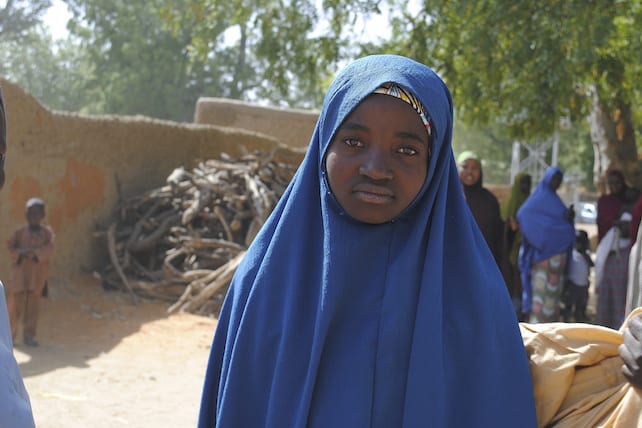 In its decade-long campaign of violence in Nigeria, the Islamic terrorist organization Boko Haram has recruited and enslaved more than 8,000 children. That number is part of a new United Nations report released on Monday.
Boko Haram uses children for both combatant and noncombatant roles, according to Sylvester Tunde Atere, national project officer of the U.N. Office on Drugs and Crimes (UNODC). Some are used in suicide bombings, while others are kidnapped and forced into marriage. Poor children are at greatest risk of exploitation because the terrorist group promises recruits food and money.
Boko Haram Victims and Recruits Face "lasting traumatic effects"
Since 2009, Boko Haram (which means "Western education is forbidden") has terrorized West Africa in an attempt to institute Sharia, or Islamic law. Atere of the UNODC says the impact on children has been particularly devastating. "Rehabilitating and reintegrating these children pose significant challenges not only in view of their number but also due to the intense and lasting traumatic effects," he says.
In April, on the fifth anniversary of the kidnapping of 276 schoolgirls in Chibok, Nigerian President Muhammadu Buhari promised, "We will not rest until all the remaining girls are back and reunited with their families." More than 110 are still missing. Buhari added, "We will never give up on our missing daughters, including Leah Sharibu and all the other people held hostage by Boko Haram."
Sharibu is one of more than 100 girls kidnapped in February 2018. Five were killed, and all but Sharibu, who's a Christian, were released. Her mother has asked U.S. officials to intervene, and last week Vice President Mike Pence met with Nigeria's vice president to discuss the situation.
This week, journalist Isha Sesay released Beneath the Tamarind Tree, a book detailing the recovery of many of the released Chibok Girls. Sesay hopes to remind the world of all the Nigerian children and teenagers who remain in captivity.
How Christians Can Help Children in Nigeria 
The U.N.'s numbers "are clearly devastating and high, but they are not very surprising," says Nathan Johnson of the nonprofit charity International Christian Concern (ICC). Johnson, ICC's Regional Manager for Africa, tells churchleaders.com that 8,000 children "is a very reasonable number to believe," considering the mass kidnappings and "knowing that millions of children have been prevented from going to school."
In Nigeria, Johnson reports, ICC sponsors 50 children from families displaced by Boko Haram violence, covering their primary-education costs so parents can find jobs and establish homes. In Benue State, ICC supports an orphanage that cares for more than 50 children. Another outreach involves communal farms for families who've lost breadwinners or access to their land. "We provide all the essentials…that allow farmers to support their families once again," Johnson says. 
The most frequent request from Nigerian Christians is prayer, according to Johnson. Supporting groups that educate children also is crucial, he says, because schooling helps kids "rise above the potential pool of recruits" to terrorist groups. Adoption is another big need, due to the high number of war orphans.
Raising awareness among local government officials is key, Johnson adds. "If they know voters care about an issue, leaders are much more likely to address it in Congress. This also helps when groups like ICC advocate to Congress or the State Department to pressure international governments to stop these kinds of acts."