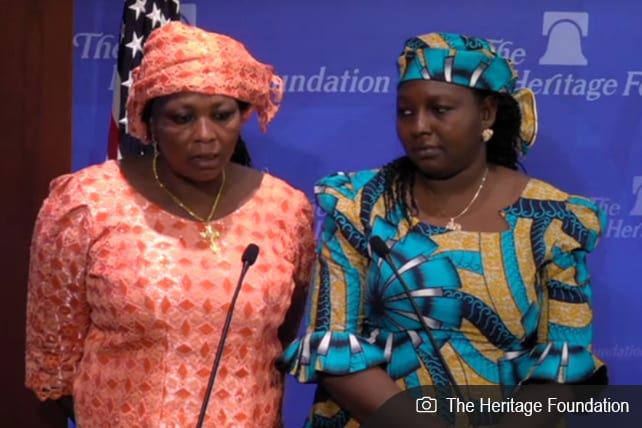 Speaking before The Heritage Foundation, the mother of teenager Leah Sharibu pleaded for the U.S. government to intervene on behalf of her daughter, who is being held captive by the terrorist group, Boko Haram.
"I am Rebecca Sharibu. I stand here pleading [with] the government of U.S to please help me!" Sharibu said as she started crying. "Please help me bring my daughter back. I need my daughter!"
Sharibu was participating in a panel discussion about the ongoing violence in Nigeria. Her friend, Dr. Gloria Puldu, stood with her and spoke the rest of the time for her, as Rebecca is not fluent in English. Puldu began by describing the failure of the Nigerian government to be proactive in taking steps to rescue Leah or even communicate with her family. "We have tried the best that we could to get the attention of our federal government and even the state government and the local government to ensure that Leah has been released," she said, "but up to today, Leah has not been released. She's still in captivity."
What Happened to Leah Sharibu
In February 2018, Boko Haram kidnapped Leah and over 100 other girls. Reports say that five girls died, and the terrorist group released all of the girls who were kidnapped except for Leah. According to one of the kidnapped girls, the reason why Boko Haram refused to let Leah go is that she is a Christian and refused to renounce her faith. In October 2018, the terrorists threatened to execute her, but instead released a video of another person being executed. Leah currently remains in captivity.
Dr. Puldu said that last October they held a press conference calling on the Nigerian government to get Boko Haram to release Leah. Up to that point, no government officials had contacted Leah's parents about her situation. But after the conference, President Muhammadu Buhari called Rebecca on the phone and assured her the government was doing its best to achieve Leah's release.
But the Sharibus have not heard anything from Buhari since the phone call, even though three government officials did visit the parents in person a couple weeks later. "After that…we never heard anything again," said Puldu. They held another press conference in February 2019 asking for help, but still heard nothing from the government. Puldu said that Leah turned 16 on May 13th. At that time, there was a huge advocacy movement for Leah through Nigeria, but again, to no effect.
"That is why we are here," said Puldu. Referring to Rebecca's opening words, Puldu said, "What she said in the beginning is to plead with your government to please pressure our government because our government seems unable to secure her release."
Puldu says they are thankful for the opportunity to come to the U.S and ask for help. "We know that President Trump can do something about it. Your administrators can do something about it. All of you sitting here can do something about it."
She closed her remarks with an impassioned plea: "Our government should be held responsible. Boko Haram has been raging all over the northeastern part. Women and girls are going through hell….please pressure our government. Help us."