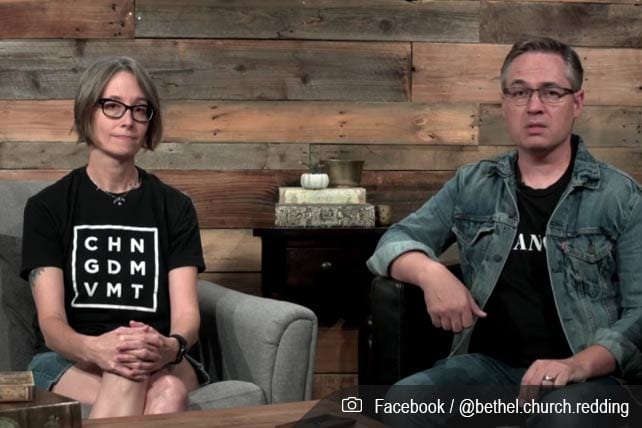 Bethel Church in Redding, California is drawing criticism for a series of posts on social media highlighting a new ministry called the Changed Movement. The ministry is geared toward "Christians who are unfulfilled in identifying as LGBTQ+." Some critics feel the church isn't taking a clear enough stance on homosexuality while others fear they are edging toward conversion therapy territory.
"We believe God is on a mission to make Himself known. And He is using the most controversial, unlikely and provocative topics—homosexuality and gender identity—to do it," Changed's website reads. 
For the past few weeks, Bethel has been posting short testimonies of people who once identified as LGBTQ+ but have since left that lifestyle behind. One such testimony is from Daniel Delgado, who writes:
On a Sunday night in December, when I was 20 years old, I met Jesus in a very experiential way. I surrendered my life to him. I then began to attend a program that ministers to those with gender confusion. So many painful issues in my life were addressed there. Over time, I began to accept myself and be at home in my own skin, as a man. Seeing and knowing other men as human beings instead of sexualizing them has been a life-changing transformation. I am so thankful for the new life God has given me. Today, I enjoy life and get to point others to the hope I have found.
While that particular post drew some critical comments from people concerned that Bethel was giving a testimony about conversion therapy (which has been the topic of several legislative debates in California in particular as well as the broader country), the following post drew even more criticism for the church's alleged ambiguous stance toward homosexuality. Some in the evangelical church argue one cannot fully know Christ while clinging to a homosexual lifestyle and that to tell someone anything other than this would be leading them astray. 
The slew of comments garnered by this post seem to encapsulate how the broader church in America is grappling with how to address homosexuality in the church. On a scale from affirming to rejecting, churches across the country are having to decide where they fall on the scale and how they will communicate this to their communities. Several denominations have experienced schism over this very topic. 
Responding to a comment on this post, Bethel Church said: "We believe you can love people and disagree with them simultaneously, and that Jesus modeled this for us well." 
Bethel Attempts to Clarify
Ken Williams and Elizabeth Woning co-founded the Changed Movement. In a video posted to Facebook, Williams explains both he and Woning experienced suicidal feelings when they were living LGBTQ lifestyles. "I stopped having suicidal feelings after I found help and hope through church and through a counselor." Williams says being accepted into a "safe space" in church happened for him in the late 1980s, but that now, in today's culture, "it's much easier now to find a safe space to go into LGBTQ than it is to leave there." 
Woning says they are trying to create a safe space at Bethel to show people that "Jesus has hope for you." The group shares testimonies, Woning explains, not to convince people they need to change, but to show that "when you experience the love of Jesus, there's dramatic impact." 
Sharing part of his own experience in counseling, Williams explains he experienced God's "unjudgmental love" that embraces a person with grace before that person takes steps to change his or her lifestyle. Williams says Changed doesn't use the approach of telling someone what to do, rather they want people to "encounter the same loving Jesus that we did." 
Woning says the change in her lifestyle was the "serendipitous outcome" of asking Jesus for wholeness and freedom. It wasn't, she insists, "because I disciplined myself into a certain feeling or a certain belief." 
Williams and Woning say they "know hundreds" of people who have left an LGBTQ lifestyle behind. They also know "a lot" of people who have not left the lifestyle behind—even people who have come to Bethel for help. Woning says she knows people who have engaged in Bethel's Sozo ministry, which is an intercessory prayer style developed by the church. They've also "soaked" in worship for 72-hours straight and not gotten any help. As a result, these people feel "absolutely rejected by God, absolutely hopeless." These are the people Williams and Woning say they are trying to help through the Changed community. 
"You'll never know unconditional love unless you share your condition," Williams says as he advocates for a "safe space" where people are free to admit they struggle with same-sex attraction. "We come alongside [people who are same-sex attracted] relationally instead of with our directives."