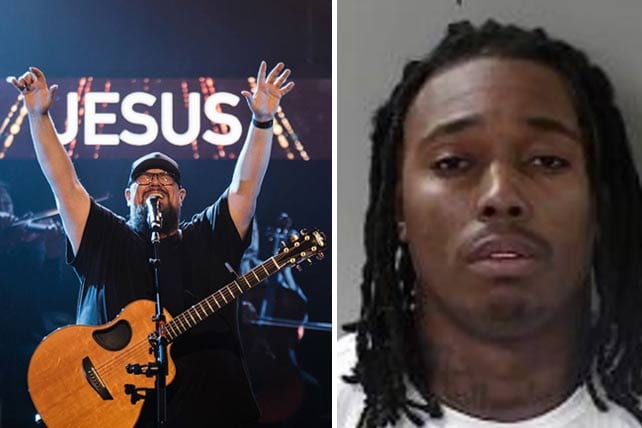 In a surprising move, a man named Danny Dashay Holmes has pled guilty to a number of crimes, including first-degree murder, that he committed in Tennessee in December of 2016. What makes his confession unusual is Holmes says God used the Christian song, "Redeemed," to lead him to confess his crimes, for which he will serve a life sentence.
"I'm 30 years old, and I've been fighting for nothing all my life," said Holmes, according to the Daily News Journal (DNJ). "I've been fighting for gangs…I ain't never fought for anything that made sense. But I knew the Lord was telling me to fight for him this time. I just knew he was stirring on my spirit."
"Redeemed" in Prison
On December 16th, 2016, Holmes and three other suspects kidnapped a woman named Brittany Johnson and made her drive to the home of Cesar Lopez-Flores. There, Holmes killed Lopez-Flores, left Johnson, and fled the scene of the crime. He was arrested on December 27th. 
According to DNJ, the indictment against Holmes included "charges related to first-degree murder, kidnapping, robbery and criminal impersonation of law enforcement." In a court statement last Friday, Holmes explained that he met God over a year ago in prison and that is why he decided to confess to the murder and his other crimes. "I knew the Lord was just on me, weighing on me over and over," Holmes said. As he was already sensing that God wanted him to confess, he read these lyrics from the song, "Redeemed," by the band Big Daddy Weave: "Then You look at this prisoner and say to me, 'Son, stop fighting a fight that's already been won.'" It was once he read those lyrics that Holmes made the decision to enter a guilty plea. 
Big Daddy Weave lead singer and guitarist Mike Weaver has said that "Redeemed" came from his personal struggle with self-worth. He was at a very low point in this struggle when the Holy Spirit spoke to him. Said Weaver, "I was an absolute broken heap on the floor of my garage as the God of the universe began to show me in my heart and in my mind how He sees me and share with me the way that He feels about me." Weaver said his life changed that day and that God changed the way he saw humility. Rather than being self-deprecating, Weaver came to see true humility as agreeing with God's perspective–and God's perspective is that he is redeemed.
Holmes told the court he deserves his life sentence, calling it a "badge of honor." During his time in prison, he has come to realize the gravity of what he did by killing Lopez-Flores, who had three daughters. Holmes also explained that he used to have an extravagant lifestyle, but now he plans to encourage young people in prison to turn to God and not to material wealth.
Holmes' family was present as he read his 20-minute statement and cried while he did. At one point, he addressed his mother, saying, "Momma, you know I love you. But Momma, I promise you, your baby boy, he's going to serve the Lord forever."