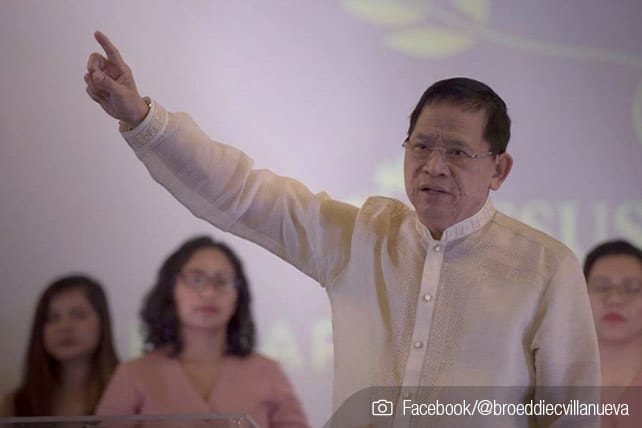 A bill being debated in the Philippines would threaten religious freedom and "unduly give special rights" to members of the LGBT community. That's the argument made Wednesday by Brother Eddie Villanueva, an evangelical pastor who recently became a deputy speaker in the country's House of Representatives.
In a House speech, Villanueva, a member of the Citizens' Battle Against Corruption (CIBAC) party, asked, "What happens to a Christian like me, and to the majority of the people in this chamber, if we are to be threatened by punishment every time we share our Bible-based beliefs on matters of transgenders and homosexuals?" He added, "We respect the lives they choose to live, but to make us conform to their lifestyle with the threat of punishment under our necks if we do not is, in itself, a violation of our own rights."
Instead of promoting equality, the lawmaker says, the bill will "unduly give special rights to some members of our society at the expense of the rights of other members and to the detriment of the social order in our community."
SOGIE Equality Bill Isn't Expected to Pass
Villanueva, who founded Jesus Is Lord (JIL) Church Worldwide, warns that the Sexual Orientation and Gender Identity and Expression (SOGIE) equality bill "undermines the role of parents," "threatens academic freedom," "imperils freedom of speech and religion," and "puts into question the very foundation" of laws in the Philippines.
More than a dozen versions of the SOGIE bill are currently in the House, and Villanueva says 10 interfere with parental rights. "Since when has it become our official policy to give the government authority to decide for our children's lives," he asks, "especially on an issue as sensitive as their identity?"
Senate President Vicente Sotto III has said the bill has "no chance" of passing in the current Congress.
Eddie Villanueva Addresses Transgender Bathroom Debate
Also on Wednesday, Villanueva defended a Filipino mall janitor who recently barred transgender representative Geraldine Roman from using a woman's bathroom. The employee was "just doing her job," says Villanueva, adding that her side of the story hasn't received enough attention.
Roman, who's championing one version of the SOGIE bill, wants a "win-win solution that will be respectful of the rights of everyone." The lawmaker told colleagues, "There is nothing to fear but everything to look forward to in a society that welcomes everyone." The equality bill, Roman says, simply gives fellow citizens "the same rights when it comes to work, to study, to receive services from the government, and to access commercial and public establishments, not to be insulted in the streets."
Before founding JIL in 1978, Villanueva was a communist and atheist. The pastor and politician, now 72, is campaigning for "righteous governance" of the Philippines and recently tweeted that "Transactional Politics is a major root cause of unabated CORRUPTION in all countries of the world!"
The Philippines has faced unrest under President Rodrigo Duterte, who once said he "cured" himself of being gay. About 86 percent of the nation's population is Roman Catholic.