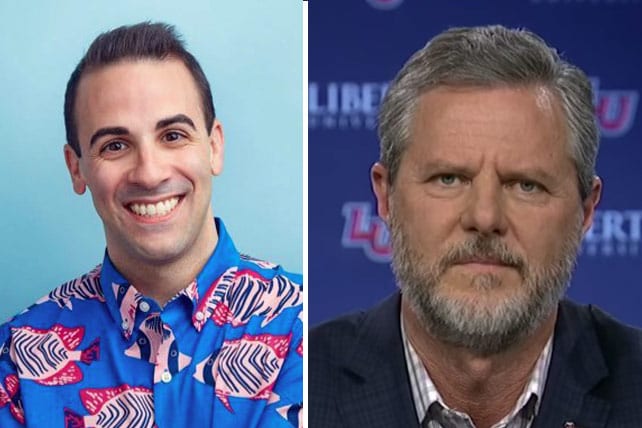 Following POLITICO Magazine's exposé about his leadership at Liberty University, Jerry Falwell, Jr., has requested the FBI investigate what he calls a "criminal conspiracy" against him.
Jerry Falwell Jr Under Fire
Falwell, Liberty's president and chancellor and son of the school's late founder, accuses reporter and Liberty graduate Brandon Ambrosino of stealing emails for the investigative piece, published Monday. Titled "Someone's Gotta Tell the Freakin' Truth," it quotes more than two dozen "current and former high-ranking Liberty University officials and close associates of Falwell." Most requested anonymity, fearing repercussions. One purchased a burner phone for the interview, saying, "Everybody is scared for their life."
One employee calls Liberty "a dictatorship," adding, "Nobody craps at the university without Jerry's approval." Another says: "I feel like I'm betraying [the Falwells] in some way, but someone's gotta tell the freakin' truth."
The conservative evangelical university was founded in Lynchburg, Virginia, in 1971 by the Rev. Falwell, Sr., creator of the Moral Majority. The school now has assets of more than $3 billion and an enrollment of more than 110,000, most of whom are online students.
Open dissent isn't allowed at Liberty, Ambrosino writes, noting that only law professors can receive tenure. Nondisclosure agreements are common for employees and board members, who must receive permission from Falwell's office before speaking to the media. "Fear is probably [Falwell's] most powerful weapon," one source says.
Falwell, who has filled his father's role as leader of America's Christian conservative movement, initially answered Ambrosino's interview questions, refuting the claims. But he eventually ended the conversation. After the article appeared, Falwell disparaged the reporter and said, "I'm not going to dignify the lies that were reported yesterday with a response, but I am going to the authorities and I am going to civil court." Falwell adds that it's "theft" for employees to share emails from university servers, though a cybercrime expert disagrees.
Report: Falwell's Power and Influence Raise Red Flags
Falwell, who has a law degree, became Liberty's president after his father's death in 2007. His younger brother, the Rev. Jonathan Falwell, is senior pastor of Thomas Road Baptist Church, the Lynchburg congregation his father founded.
POLITICO's sources accuse Falwell, Jr., and his wife, Becki, of consolidating power at Liberty. "He just kind of pushed [Jonathan] aside," one says, adding that "Jonathan complained but never stood up to" his brother, knowing that Jerry "controlled the purse strings."
Many of the allegations involve blurred financial lines between Liberty and Falwell's family and friends. Interviewees point to questionable loans and sweetheart deals that benefit an inner circle, including Falwell's son Jerry "Trey" Falwell III, a Liberty vice president. Those deals include a shopping center managed by a company Trey owns, a fitness center, and a LaQuinta Inn to which Liberty "funnels business," according to claims.
Legal experts quoted in the article say some transactions are troubling, due to Liberty's non-profit status. Falwell, Jr., denies any resulting financial gain.
Several loans from Liberty to Falwell's associates have reportedly led to large contracts for university-related construction. While denying personal benefits, Falwell says, "Liberty University has one of the largest unrestricted endowments in the nation and frequently invests in hundreds, if not thousands, of companies around the world purely for the return on investment." Other schools do the same, he notes.
But some employees view things differently. "We're not a school," one says. "We're a real estate hedge fund." Another notes, "There's no accountability. Jerry's got pretty free reign to wheel and deal professionally and personally. The board will approve an annual budget, but beyond that…he doesn't go to the board to get approval."
Sex and Politics Also Factor In
Another concern of some Liberty officials, past and present, involves how "very, very vocal" they say Falwell is about his "sex life." Sources report he had inappropriate workplace conversations and showed racy photos of his wife. After Falwell accidentally sent one to unintended recipients, he relied on a Liberty-employed IT "fixer" to negate damages.