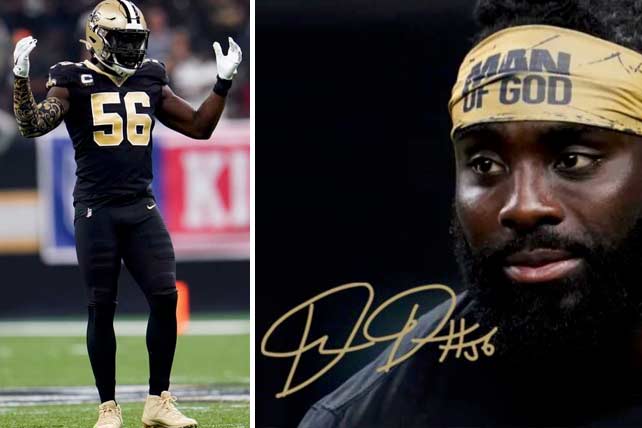 A small piece of cloth unwittingly brought Demario Davis lots of attention; now it's blessing other people while glorifying God.
Davis, a starting linebacker for the New Orleans Saints, had been wearing a gold "Man of God" headband under his helmet this season. During a September 22 game against Seattle, the phrase was visible when Davis took off his helmet. That led to a $7,017 fine for violating the National Football League's "personal messages" rule. Players are prohibited from "wearing, displaying, or otherwise conveying personal messages" on game day unless they receive prior approval.
Davis, one of the league's most outspoken Christian football players, said he wasn't "fully aware" of the policy beforehand. To avoid escalating fines, he stopped wearing the headband during games, though he still sported it during post-game interviews. This week, Davis learned he won an appeal and won't have to pay up—but he's found an even better use for that seven grand.
Hometown Hospital Benefits From Demario Davis' Headwear Flap
The league often rescinds these types of fines once a player agrees to comply in the future. But even before Davis knew about his victory, he was determined to make proverbial lemonade out of the situation. "I can't wear [the headband] and represent God and glorify him," he said. "It's something that's important to me, so I'm just trying to figure out a way to still turn it into a way he can get glory from it."
His solution was to sell headbands online and donate all the proceeds to a hospital near his hometown of Jackson, Mississippi. St. Dominic Hospital, where Davis' mother once worked, needs a new emergency room.
"I'm hoping to put [the headband] out where fans can wear it," Davis says, "and I can wear it through them." The $25 headbands, available in gold and pink, come in three versions: "Man of God," "Woman of God," and "Child of God."
On Instagram this week, Davis wrote: "So far, we've raised over $30,000 for [the hospital] from the headbands!! That means y'all helped me turn a $7,000 negative into an almost $40,000 positive benefiting people who truly need it!!! Do y'all see how that worked??" He added, "Y'all are a part of this journey too!! I can't thank y'all enough either. We on a mission over here obstacles are meant to be conquered!! I'm truly blessed as anybody."
Demario Davis Gives God the Glory
Winning the appeal was "huge," Davis admits, but it's really just icing on the cake. "We've been able to turn it into a positive and use it to raise funds for a hospital that's trying to rebuild this emergency room," he says. "And then on top of that, being blessed to win the appeal and be able to take those funds that I was already counting as a loss and further contribute to the cause, it's just a major blessing. And I don't take it for granted."
Davis says God has been working through the fine and the resulting publicity. "Nobody wants to lose money," he says, "but I think any time that the conversation about God is brought up, especially in these times, I think it's always a positive or silver lining. If he can get glory from it, I think he can get glory from it whether I personally wear the headband or don't wear the headband. He's always going to be in control of the whole situation. We're still all good."
Davis, whose Instagram profile reads "Servant of God 1st!" says he's "always using my platform to glorify God." He adds, "And that's never going to change. Because I believe he's the one who gave me this platform for that purpose to make his name known. So I'll always be about that." 
Young Fans Create Their Own Headbands 
Davis, 30, says he's been humbled by all the support—from Christians as well as non-Christians. "Just to have the support of the community, and pretty much nationwide, it's been amazing," he says. "Just about being able to have the freedom of expression and your speech and to be able to stand for what you believe in, in your faith, has just been overwhelming."
Especially heartwarming to the linebacker was the "totally unexpected" actions of students at St. Louis King of France Catholic School in Metairie, Louisiana. Schoolchildren posed on the playground wearing their own "Child of God" headbands, handmade from lined paper. Davis shared the photo on social media, calling it "the cutest thing ever." The player says he has "something special coming" for those kids to express his thanks.