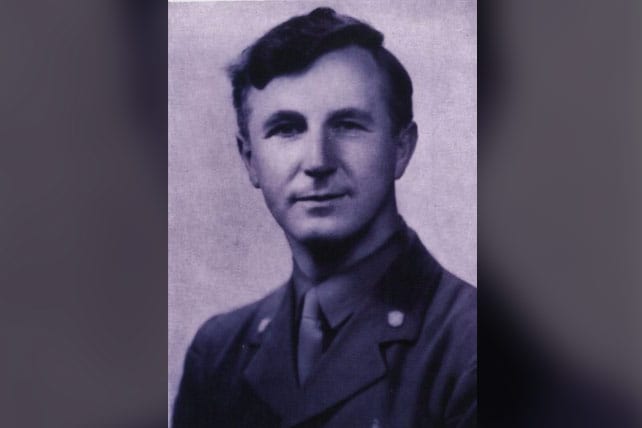 The Rev. Dr. Donald Caskie, a Church of Scotland minister who saved more than 2,000 people during World War II, was recently honored at a ceremony in France. The organization Le Devoir du Memoire ("Duty to Remember") installed a plaque at Fort de la Revere near Nice, where Caskie, nicknamed the Tartan Pimpernel, helped Resistance fighters escape through a sewer system.
"These men were heroes of the shadows who did not seek reward and only thought about whether or not they had done their duty," said Le Devoir du Memoire secretary Nicole Pinon while presenting a commemorative medal to Caskie's nephews on October 19. "Our goal is to never forget."
Nephew Tom Caskie said he was "bursting with pride" at the well-deserved tribute. "He was a hero of the Second World War," he said of his uncle, "and is still remembered with affection for his time as the minister of the Scots Kirk in Paris and the things he did with the Resistance to save thousands of lives."
From Ministry to Wartime Intelligence
Caskie, who lived from 1902 to 1983, decided to become a pastor by age 6. After studying divinity at Edinburgh University, he ministered at a country parish in Scotland before accepting a call to the Scots Kirk in Paris in 1935. "I learned to love the beautiful city to which I had come," he wrote.
When Germany invaded France in 1940, Caskie refused to return to Scotland, saying he "knew with utter certainty that God wanted me to stay in France." Instead, he denounced the Nazis from the pulpit. To the French authorities who offered to arrange Caskie's safe return home, he responded, "There's nothing I'd like better, but that is impossible. I cannot desert my own people in such a dreadful hour of need. I am a minister. How could I leave them?"
From Marseilles, Caskie ran a "seaman's mission," helping about 500 British and Allied soldiers cross the mountain border of Spain. That mission was the final stop in a chain of safe houses throughout France, running from Dunkirk to Marseilles. Caskie made use of his many contacts in the intelligence services. A friend once said Caskie "was networking long before the term had been invented."
After Caskie's identity was compromised, he was arrested and banished from Marseilles. Instead of fleeing to safety in Britain, he became a university chaplain in Grenoble, France. From there, he continued helping Allied soldiers escape. In vaults under the campus church, Caskie helped hide hundreds of people.
While ministering to prisoners of war in 1942, Caskie found a sewer hidden behind shrubs near Fort de la Revere. He helped dozens of soldiers escape through the sewer tunnel—and returned 36 to Britain in a submarine. "All returned to England to continue the fight," Caskie wrote in his autobiography, The Tartan Pimpernel. In that account, he shares, "Still more would have escaped but for a tragic comic miscalculation involving a fat man—a squadron leader from the RAF [Royal Air Force] who got stuck in the tunnel."
Caskie Narrowly Escaped Death
Following those efforts, Caskie's cover was blown yet again. The Gestapo threw him in prison, where he was sentenced to death. Thanks to the intervention of German Lutheran minister Hans-Helmut Peters, Caskie was granted clemency. Until the war's end, he was jailed in a POW camp, where he served as chaplain to other prisoners. He described writing on his cell wall this Scripture: "Fear not, for I am with thee, saith the Lord."
Caskie's harrowing work resulted in seven prison stays. After the war, he returned to the Scots Kirk and was awarded the OBE, or Order of the British Empire. Caskie wrote his autobiography to help fund a rebuild of the Scots Kirk—the first of two construction efforts he helped make possible.
Even today, the minister-turned-war hero is "still very much alive in the hearts and thoughts of the congregation," says church elder Dorothy Nitsche. "Many visitors to the Scots Kirk come here because they have read his memoir or have heard of his bravery during the war. People said he was a brilliant figure in the church and a very much hero to them—although he himself would never have put it that way."
Caskie Had "a streak of iron" 
Caskie moved back to Scotland in 1961, where he pastored several churches until his death in 1983. On an episode of This Is Your Life, Caskie was reunited with Peters, the pastor who helped save his life. Despite many recognitions and war medals, Caskie reportedly suffered from depression and died poor and alone.