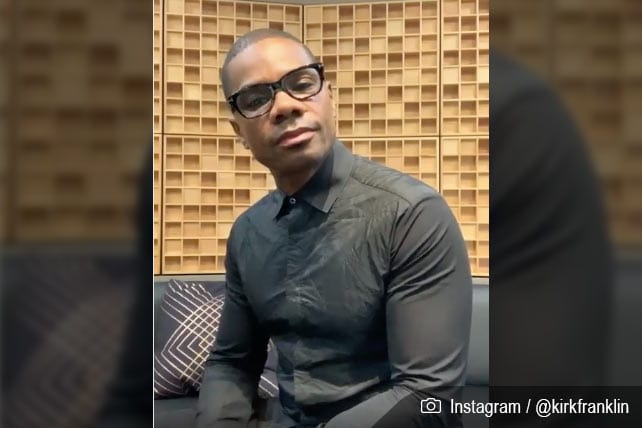 Gospel singer Kirk Franklin has announced that he will be boycotting the Dove Awards, the Gospel Music Association (GMA), and the Trinity Broadcasting Network (TBN). In an Instagram video he posted yesterday, Franklin explained that he came to his decision after comments he made about racial conflict were edited out of two separate acceptance speeches.
"Today, I feel like quitting," said Franklin at the beginning of his post. "I am heartbroken that I even have to share this with you." 
The Dove Awards and the Tipping Point
Franklin began by summarizing what happened when he won the award for Best Gospel Artist at the Dove Awards in 2016. Franklin said that "as a Christian and a man of color," he felt the need to address the "civil unrest" affecting the country at the time. In that acceptance speech, he specifically mentioned several black men who had been killed by white police officers, as well as five white police officers killed by a black man.
View this post on Instagram
In his Instagram video, Franklin said, "I called upon the audience to join me in remembering that as Christians, when we say nothing, we're saying something." The audience gave him a standing ovation, and he led them in prayer for racial reconciliation. You can watch that speech below.
"We all felt that moment that it was a shift in the climate of our separate worlds," said Franklin. But he was disappointed to see that when TBN aired his speech, the network edited that part of it out. He reached out to TBN and the Dove Awards committee about the incident. TBN, he said, never responded to him, while the Dove Awards committee promised that scenario would not occur again. 
But it did happen again when Franklin accepted an award in the same category at the Dove Awards in 2019. In this year's speech, he mentioned the murder of Atatiana Jefferson in her home in Fort Worth, Texas, where Franklin is from. He asked the audience to pray for Jefferson's family and for the family of the police officer who killed her. When Franklin's speech aired last week, that part of it did not make the airing. 
You can see Franklin's 2019 acceptance speech below. He mentions Jefferson around the 4:40 mark. 
Franklin said he met with the Dove Awards committee, as well as representatives of TBN, about the editing of his speech and also consulted with his team and with his pastor, Dr. Tony Evans. After doing all of this and praying about his decision, he decided to "not attend any events affiliated with or for the Dove Awards, Gospel Music Association or TBN until tangible plans are put in place to protect and champion diversity, especially where people of color have contributed their gifts, talents and finances to help build the viability of these institutions." By editing his speech, Franklin said, those who did so actually edited "the African American experience." 
Despite the seeming finality of his decision, the gospel singer maintains that he desires reconciliation. He also said he is not asking anyone else to follow his example–although his post currently has over 10,000 comments filled with people who support him, many of whom say they will follow his lead. These include some notable names, such as actress and comedian Anjelah Johnson-Reyes, who wrote, "Amen. We support you good sir," and Christian rapper Lecrae, who said, "I only came cause you came. You know I'm out." 
Aaron Cole commented with a series of fire emojis, while Travis Greene said, "The general has spoken." Tauren Wells wrote, "Love and respect your stance, respect, and character evidenced again by this. Reconciliation is possible." Artist GAWVI commented, "Ima just wait if any top white Christian artist supports Kirk on this…..
Some did respond with affirmation, although it is not clear whether they will actually boycott the Dove Awards. Singer Natalie Grant wrote, "Love and respect you so much. Thank you for using your platform to speak truth in love, and always with a spirit of humility. You're consistently calling us towards unity." Jeremy Camp also commented with his support, and John Mark McMillan wrote, "I'm so sorry this happened. It's not OK…I'm blown away by the grace and humility with which you've handled these issues. It speaks volumes." 
GMA Responds
Jackie Patillo, President and Executive Director of the GMA, has issued a public response to Franklin, explaining that the GMA had to "significantly edit" the awards show to get it down to a two-hour time limit. The result was the producers had to leave out "many memorable moments and noteworthy portions of acceptance speeches," including Franklin's.   
Patillo apologized for the "missteps" that occurred in relation to Franklin's comments. She said, "We accept the responsibility of our error. Although completely unintentional, we understand it caused great harm and deeply wounded many in the African American and Gospel community. As well, it left a general perception that we are not concerned with key social issues that affect people of color. It is not our intent to disregard or silence any of our artists, and we are deeply saddened by this perception and are committed to change this." 
Patillo said the entire show is available to watch here and noted that everyone who won an award has since received a full version of their acceptance speeches to post online should they choose to do so. She emphasized the GMA's commitment to the gospel and said the association is working toward reconciliation with Franklin, noting, "We will be highlighting those initiatives at a future date."