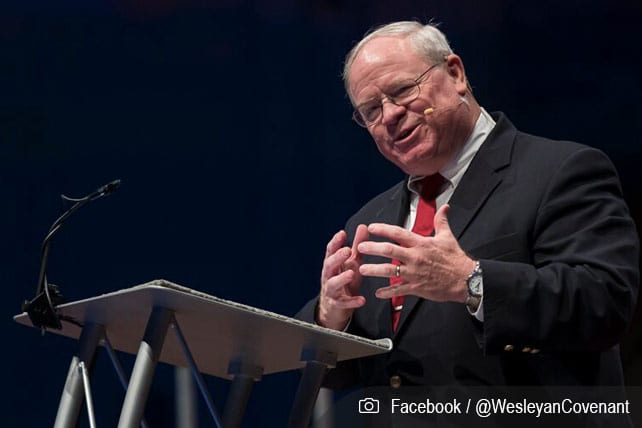 Wesleyan Covenant Association leaders say a breakup of The United Methodist Church is necessary and inevitable, and they want to be ready.
"We are preparing for the launch of a new Methodist church in the aftermath of General Conference 2020. We see the Wesleyan Covenant Association as a bridge to this new church," said the Rev. Keith Boyette, WCA president.
Boyette was among those speaking at the WCA's fourth Global Gathering, held Nov. 9 under the title "Transformed."
The event drew about 1,000 people to Tulsa's Asbury United Methodist Church, with another 2,000 watching via simulcast at 86 locations around the U.S. and in other countries.
Wesleyan Covenant Wants to Be Prepared 
Looking toward the future, the WCA released the draft of a Book of Doctrines and Discipline that could be used by a new, traditionalist denomination. The global legislative assembly approved "receiving and commending" the document, but Boyette stressed it's a work in progress and invited WCA members and others to offer comments as revision continues.
WCA leaders also announced that the legislative assembly approved the formation of six ministry task forces to help flesh out priorities of a new church.
Boyette, in his address, predicted such a denomination would have term-limited bishops, lower apportionments for local churches and a smaller general church.
"We envision a leaner, more nimble church which is not top heavy with an institutional bureaucracy that constrains rather than liberates us to share the good news," he said to applause.
Among those who traveled long distances to hear such a message and make connections was Chris Cutler, a layman from Imlay City United Methodist Church in Michigan.
"We've already expressed to our conference that we would like to exit," Cutler said.
The WCA formed in 2016 and has become a leading member—with Good News, the Institute of Religion and Democracy and the Confessing Movement—of the Renewal and Reform Coalition. That unofficial advocacy coalition favors an evangelical focus for The United Methodist Church, and a definition of marriage as between a man and a woman.
The coalition supported the Traditional Plan that passed 438 to 384 at the rancorous 2019 General Conference in St. Louis. The plan strengthened church restrictions against ordination of gay clergy and same-sex unions.
Though on the winning side, WCA leaders describe the denomination's conflict as longstanding, harmful and irreconcilable.
"The WCA believes The United Methodist Church will come apart, either by an agreed plan of separation, enacted by the 2020 General Conference, or through local churches deciding to exit the denomination due to the never-ending cycle of conflict, inaction and dysfunction," Boyette said.