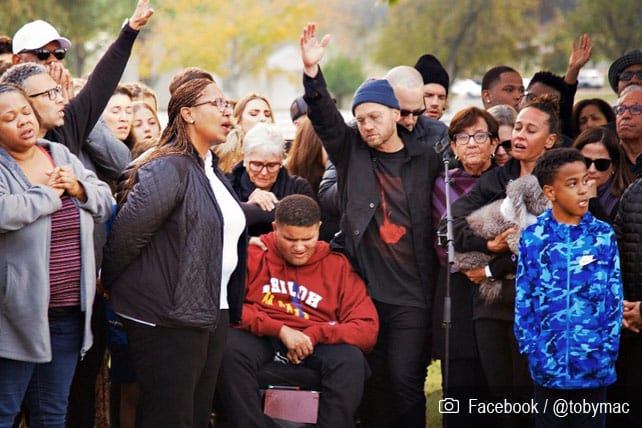 One month after the death of his son, Truett Foster McKeehan, Christian artist TobyMac (Kevin McKeehan) has shared a moving post on his social media channels with pictures of his son's funeral. In addition to emphasizing God's goodness and faithfulness, the hip hop artist expressed heartfelt words of gratitude to those who have supported the McKeehan family during this time of tragedy. 
"As we enter this week of Thanksgiving we have something we'd like to share… As we mourn our firstborn son, God has poured out His love on us through people. He has loved us through you," wrote TobyMac in a post he published on Facebook, Instagram and Twitter. "Your kind acts and words and prayers and thoughts and songs and poems and teachings and gifts and meals and time and expertise and travel have made death bearable. You have been God's light to us in our darkest days—A comfort to our broken hearts." 
The Funeral of Truett Foster McKeehan
The images TobyMac posted show friends and family at the funeral grieving and worshipping. Pallbearers wore hoodies with the word "Shiloh" printed on them, which was one of Truett's stage names.
Two themes stand out from TobyMac's post, one of them being the deep gratitude the McKeehan family feels to those who have supported them during their heartbreak. 
Such overwhelming love has surrounded us this last month. We still don't quite know which end is up but we do KNOW, we are loved…We have experienced family at every layer and every turn. From the closest to those who have loved from a distance, thank you, thank you a thousand times over. We are grateful for your gentle and compassionate hearts. It is something we will never forget. Community as it should be….the body at its best. How God must be pleased!
The other theme of the post was the family's steady, persistent hope in God. "We've been encouraging ourselves to stand on this," wrote TobyMac, "the place of death is actually where all that we believe is most significant. That God has the power to do what he promised, defeat death and give life to anyone who believes."
He concluded his post with a meditation that God is always worthy of our praise: "So from the valley of the shadow of death we pray a flood of thankfulness will rise this week. Thankfulness to a kind God who is not afraid. The Father of the Heavenly lights…who shines most beautifully in the darkness, and gives us everything we need."
Truett Foster McKeehan's Tragic Passing
TobyMac's eldest son passed away in late October in the Nashville area at 21 years of age. Officials are still investigating the cause of his death, although reports say Truett experienced cardiac arrest. According to the Blaze, it will be six to eight weeks before autopsy and toxicology results are available. 
Shortly after his son's passing, TobyMac started a foundation in Truett's honor, dedicating it to children who do not have the finances to pursue their love of music. The foundation's website says, "We want to use this fund to help kids…get an education—to pursue music—to get the chance to chase their dreams. Truett would love that."