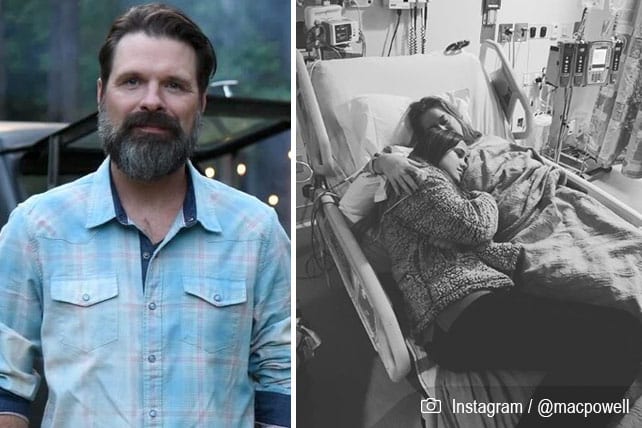 Mac Powell of the Christian band Third Day (and Mac Powell and the Family Reunion) is asking for prayers for his wife, Aimee, who is recovering from a brain aneurysm. According to the musician, Aimee complained of a terrible headache early on Saturday morning, which prompted him to call 911. After being rushed to the hospital, Aimee underwent surgery and is currently in recovery. The pain, however, has not subsided.
"Forgive me for not knowing all the right medical stuff," Powell wrote in an update on his Instagram account. "In her procedure they were able to put in 2 coils which will keep the aneurysm from bleeding and possibly rupturing."
While the surgery was successful in stopping the aneurysm from causing further damage, Powell says Aimee is still in an incredible amount of pain which renders her incapable of conversing for very long. While the doctors have given her medication to mitigate the pain, Powell says they have not been able to completely eradicate it. Aimee was also having trouble eating and moving.
As far as the recovery process is concerned, Powell explains "Eventually as the blood from the rupture leaves her brain it will work it's way down to the neck and then her back." Powell's words indicate he is hopeful for a full recovery. He wrote, "All signs are good so far. There doesn't seem to be any negative neurological signs yet for physical or mental deficiencies." Powell says Aimee will most likely have to stay in the hospital for a couple of weeks.
The musician says the family is "overwhelmed" by the support they've received from family, friends, and fans. He wrote:
Visits from some sweet friends and family helped and encouraged us- reminding us that there is NOTHING like close friends and family. We are OVERWHELMED by the encouragement and love we are receiving. We hear and feel your prayers. The calls, texts, and posts have made me tear up quite a few times.
Powell and Aimee have five children, three biological and two adopted. The family lives in the Atlanta, Georgia area. Most recently, Powell has been working on his solo career, performing country music with the Mac Powell and the Family Reunion band. On Monday, Powell shared an image of one of their daughters, Camie Love, snuggling with Aimee in her hospital bed.
In the latest update Powell shared, he reports Aimee is making progress. Her pain is still "up and down," but she was able to eat a little bit and even walk a few steps.
Powell asked for people to keep their prayers coming: "Keep praying- we're still not out of the woods. But it feels like we're taking a step towards the exit."