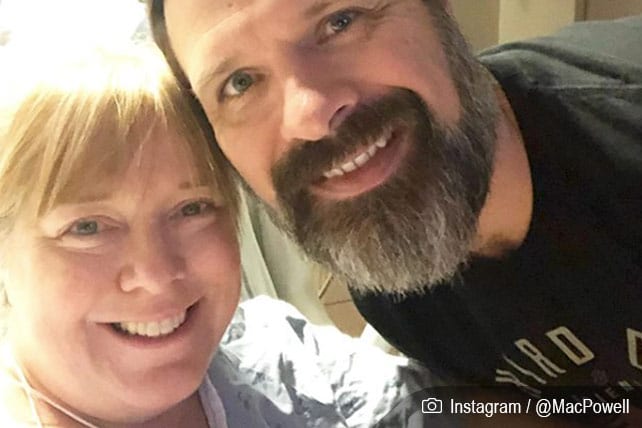 Mac Powell of the bands Third Day and Mac Powell and the Family Reunion has shared an encouraging update about his wife, Aimee Powell. Aimee suffered a brain aneurysm a couple weeks ago and has been in the hospital ever since. After 14 days in the hospital, though, Aimee was released and is finally home again with her family.
Powell shared the update on Friday to his Instagram account, writing "On this 40° rainy Friday and after 14 days in the hospital with a bit of a painful, and tiring morning, the doctor has released Aimee from the hospital." 
The musician, who is currently on tour with his band Mac Powell and the Family Reunion, thanked everyone who has prayed for Aimee and helped their family in practical ways to navigate this trying time. Powell wrote: 
We are so incredibly grateful to all the doctors and nurses that have provided excellent care to Aimee. And we can never say thank you enough to our family, friends and brothers and sisters in Christ who have prayed, taken care of our children and blessed us with gift cards, food, flowers and cards.
A couple days before this update, Powell shared a little more about Aimee's condition, saying that she will likely continue to be in "major pain" for the next 4-6 weeks. The pain is concentrated in her head and lower back at the moment, and the doctors have given her medication to try to mitigate it, although they can't take it away completely. Each day she spent in the hospital, Aimee was able to move a little more. 
While Powell is performing a special Christmas Party concert across the country right now, he has managed to travel home to Georgia to see Aimee and take care of their five children. The band's next scheduled concert is on Wednesday in Marietta, Georgia. Then the band has two more nights of concerts in Paragould, Arkansas and Haltom City, Texas before Powell is done touring this season.
Aimee complained of a terrible headache on Saturday, November 30th, which prompted Powell to call 911. Aimee then underwent emergency surgery to prevent further damage in her brain caused by an aneurysm. "Eventually as the blood from the rupture leaves her brain it will work it's way down to the neck and then her back," Powell explained in an earlier post about Aimee's condition. 
Please continue to pray for the Powell family.