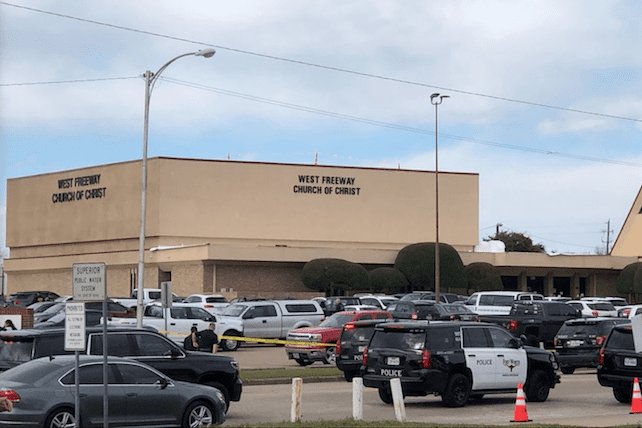 At least two people have died in a shooting that occurred this morning at a church near Fort Worth, Texas. One person died at the church while another died on the way to the hospital. A third person is at the hospital and is currently undergoing surgery. 
"It was the most scariest thing. You feel like your life is flashing before you. I was so worried about my little one," Isabel Arreola said.
The shooting occurred at West Freeway Church of Christ in the city of White Settlement at 10:00 am local time. According to a witness, the shooter entered the sanctuary of the church and walked up to a server while the person was serving communion. The suspect shot the server with a shotgun. A former FBI agent and member of the church's security team then shot the suspect. It is believed that the third person taken to the hospital was the suspected shooter, although the identities of the three people have not been released. 
Texas Attorney General Ken Paxton shared a statement about the incident via his Twitter account. Paxton asks for prayers for the victims and their families.
We are shocked and saddened to hear reports of a shooting at a church in White Settlement.

As reports come in, please pray for any victims and their families, this congregation, and the law enforcement officials at the scene. My office will assist in any way needed.

— Texas Attorney General (@TXAG) December 29, 2019
Texas Governor Gregg Abbott released the following statement:
Our hearts go out to the victims and families of those killed in the evil act of violence that occurred at the West Freeway Church of Christ. Places of worship are meant to be sacred, and I am grateful for the church members who acted quickly to take down the shooter and help prevent further loss of life.
The service at West Freeway Church of Christ was being streamed online, and may have caught the whole incident on camera, however the video has been removed from YouTube. 
This is a developing story.