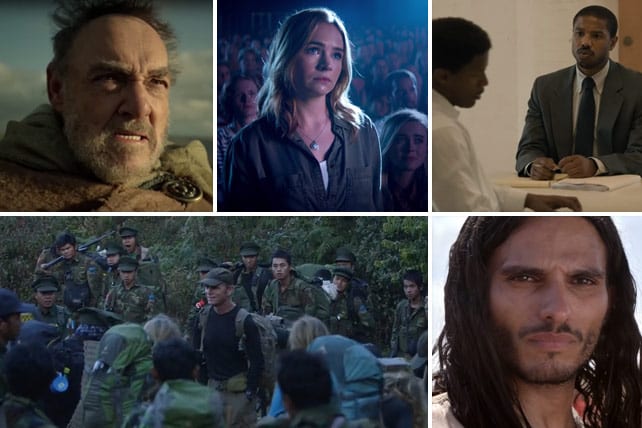 The year 2020 brings some exciting new Christian films and a Netflix series to watch. We've listed the movies we're most excited about seeing by their release date.
Released January 1st on Netflix
Produced by Mark Burnett and Roma Downey, this thriller series tells the fictional story of a modern-day messiah figure. Michelle Monaghan plays a CIA agent who is tasked with getting to the bottom of this mysterious figure's origins and intentions. Each episode leads her closer to answering the question of whether this messiah figure is truly the Christ come again or the best con man on the planet. Please note: some may find the portrayal of a second-coming of Christ in our current times (and the belief some of the characters in the series hold that he is a con-man) offensive. We don't feel it was the intention of the producers to offend Christians or people of other religions, rather to explore the question of what it might look like if Christ came back now. Still, please use your discretion. 
Just Mercy
Releases January 10th. 
Just Mercy is a feature film following the real-life story of attorney Bryan Stevenson. Jamie Foxx plays Walter McMillian in the film, a black man who was convicted and sentenced to death for a murder he did not commit. Michael B. Jordan (of Black Panther fame) plays Stevenson, who intervenes in McMillian's case to save him from a punishment he does not deserve. Just Mercy is based on Stevenson's book by the same title, which highlights the story of just one of the seemingly hopeless cases Stevenson has taken on in real life with his organization, the  Equal Justice Initiative. The movie is an inspiring look at the work Stevenson's faith has compelled him to take on. Foxx was nominated for a Screen Actor's Guild award for best supporting actor for his role in this film. 
Releases March 13, 2020
I Still Believe is a feature film telling the real-life story Christian musician Jeremy Camp's marriage. Camp's wife, Melissa, battled cancer, and the story follows their relationship of love and loss. The film leans on the acting talent of KJ Apa (who stars in Riverdale), Brit Robertson, Gary Sinise, and Shania Twain. 
This documentary follows the Dave and Karen Eubank family into war zones where they are fighting to bring hope. "Viewers will follow the family into firefights, heroic rescues, and experience life-changing ministry," the film's website states. Dave Eubank founded the Free Burma Rangers over 20 years ago in response to conflict in Burma (also known as Myanmar). Eubank is a former U.S. Special Forces soldier turned missionary. Dave, Karen, and their three children are involved in this dangerous work, but they don't let fear keep them from doing what they believe God has called them to do. Please note: viewer discretion is advised with this movie as it includes intense, graphic sequences of war violence.
Releases March 17-18th in select theaters 
This docudrama tells the real story of St. Patrick. The filmmakers have used historical reenactments, interviews with experts, and Patrick's own writings to piece together the incredible story of the man who history credits with bringing Christianity to Ireland. The docudrama follows Patrick as he was kidnapped by pirates in his native Britain in the 5th century. Patrick was sent to Ireland, which was considered outside the realm of the known world at the time. The inhabitants of Ireland were anything but Christian, which is how Patrick grew up. For six years, he served as a shepherd and discovered what it truly means to trust a faithful God. Patrick escaped back to Britain, but heard a call from God to go back to Ireland to evangelize. Follow Patrick's incredible journey of faith, persecution, and obedience in this exciting docudrama. 
Rise
Releases April 10, 2020
Rise stars Sterling K. Brown (This Is Us) as janitor Willie Davis who took over a failing middle school basketball team. The true-life story follows Davis as he instructs players to prioritize  "the Lord, books and basketball" and leads them to a state championship. "Willie Davis is a true American hero. I'm honored to tell his story on film, and there's nothing better than having Sterling K. Brown play the role," director Kevin Rodney Sullivan says. (This film's trailer is not yet available.)