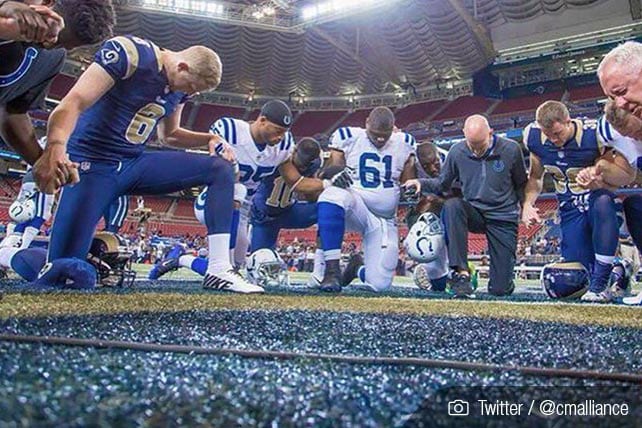 With the big game coming up this weekend, the health, grit, and mental states of the players of the San Francisco 49ers and Kansas City Chiefs are on the minds of many. But two people in particular—Marcellus Casey and Earl Smith—are concerned about the players' spiritual states. Casey is the team chaplain for the Chiefs and Smith serves as team chaplain for the 49ers. Although they serve different players in different cities, these two men are really on the same team.
"There's a really good friendship and fellowship among the chaplains," Casey says in an interview with Sports Spectrum. "We all love each other, we cheer each other on, we pray for each other. Go Chiefs, go 49ers—let God's will be done." 
Marcellus Casey – Team Chaplain for the Kansas City Chiefs
Casey says he knew from a young age he wanted to be a team chaplain, he tells Sports Spectrum. His father, Carey, served as a chaplain for a handful of teams, including the Dallas Cowboys and Chiefs, as well as the 1988 Olympic team. With the example of his father, Casey grew up knowing about the impact a team chaplain could have on a person's life. Casey played football at Northwest Missouri State his freshman and sophomore years of college, then decided to stop playing so he could serve as the team's chaplain his junior and senior years. 
Like many other NFL chaplains, Casey fulfills a couple other ministry roles in addition to his chaplaincy role with the Chiefs. He's the COO of Hope Center, which works with inner-city youth in Kansas City. He is also a lay-elder at Redeemer Fellowship Church. 
Casey has been with the Chiefs for three seasons now. When he leads Bible studies, Casey says he likes to use a mixture of expository teaching and topical study. Even if they are talking about a particular topic, Casey says it's really important that they are "walking through God's word" as they do it. He also leans on the church calendar for topics, too, often devoting a section of study to Advent. 
This season, Casey said he focused on prayer with the Chiefs. During the regular season, the group went through the Lord's Prayer, slowly, line by line. Casey taught on how Jesus taught us to pray and connect with God. When the Chiefs made the playoffs, Casey took a different approach to the Bible study by putting the Lord's Prayer into practice. Instead of teaching each week, Casey led the group in "praying and seeking God's face." 
Casey's wife, Stephanie, also leads a weekly Bible study for wives and girlfriends of the Chiefs players. 
Earl Smith – Team Chaplain for the San Francisco 49ers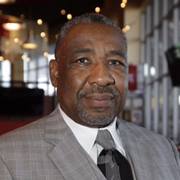 Smith has an incredible personal story. As a young man, he fell into a life of selling drugs. The choices he made led him to be shot six times. Incredibly, Smith survived, and God got ahold of him in the hospital. Smith believes God told him he was going to be a minister to the prisoners at San Quentin State Prison in California. Speaking to Sports Spectrum, Smith said "They left me on the gurney by myself and I hear this voice saying, 'You're not going to die. I have something for you to do. You're going to be a chaplain at San Quentin prison.'"
Starting in 1983, Smith served at the prison for 23 years. At 27 years old, he was the youngest protestant chaplain hired by the California Department of Corrections. While serving in San Quentin, Smith coached the inmate football and baseball teams. His role at the prison had him rubbing shoulders with the vilest of offenders, including Charles Manson. He also worked with inmates on death row, earning him the nickname "Death Row Chaplain."
Years into his prison ministry, Smith got a once-in-a-lifetime opportunity to extend forgiveness to someone. As he was walking through San Quentin one day, he recognized a prisoner behind bars; it was the man who shot him six times. Smith said he felt a conflict inside him, knowing that the tables had turned and now he was in a position of power over this man. Instead of seeking revenge, though, Smith thanked the man behind bars. "I need to thank you, because God used you to get to me," he told his shooter. 
Now, Smith serves as team chaplain for the 49ers and the Golden State Warriors. Smith even sees some similarity between his previous job and his current one. "The thing that's interesting about prison and in working with athletes, it's just men," he told CBN. "They all wear numbers. There's one segment that makes a lot of money for what they do. But at the end of the day they have some of the same conflicts in their lives; they have some of the same difficulties."
A Player Turned Team Chaplain 
Maurice Williams has a unique view of the chaplain-player relationship, having spent time on both sides of the equation. Williams played in the NFL for nine seasons. When he put away his football pads, Williams went to school to become a minister. Now Williams is an Athletes in Action chaplain for the same team he played for: the Jacksonville Jaguars.
Williams would like outsiders to know that NFL players are "real people;" they are more than "just football players or some superhero that this country would like to lift up." Indeed, players have "real families, real issues, real emotional problems…they deal with losses in their families just like everybody else."