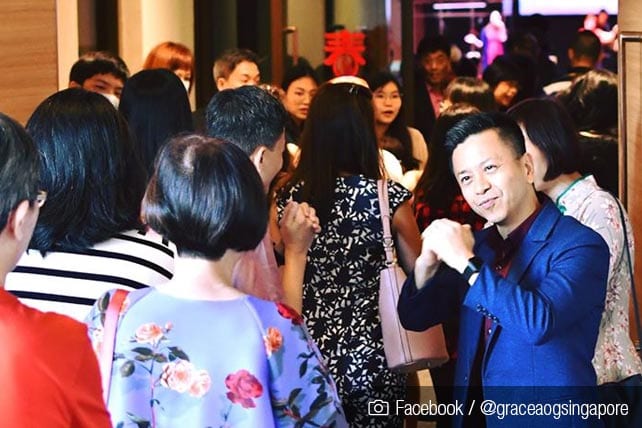 Pastor Wilson Teo of Grace Assembly of God in Singapore has tested positive for the novel coronavirus, dubbed Covid-19 by the World Health Organization. Teo's is one of seven confirmed cases of the virus among members of the church. As a precautionary measure, the church will close its doors and pause all face-to-face activities for two weeks. 
"This virus will come and pass, but Grace Assembly must emerge stronger and more united than ever, under God's presence and provision!" Teo wrote in a letter to the congregation. The pastor assured his congregation he is "recovering well" and looking forward to his full recovery "when I will share with all of you on Grace Assembly's journey in overcoming this virus." 
Covid-19 Halts Grace Assembly's Activities
Teo is currently quarantined in Singapore's National Centre for Infectious Diseases. Because of their contact with Teo, staff members of the church are under a Home Quarantine Order (HQO), issued by Singapore's Ministry of Health (MOH). 
In the letter, Teo also told congregants that the MOH has started contact tracing, a process wherein they track down who has been in contact with the confirmed cases linked to the church. The MOH is reaching out to these people, and Teo asked parishioners to comply with any instructions they may receive. If they have not been contacted, however, Teo said congregants should "live your life as normally as you can." 
While Teo says he is looking forward to resuming services at the church the weekend of February 29th, he says this is a date to hold loosely. "With the evolving situation, we must be prepared that things may get worse, before they get better," he writes. The pastor also commended the courage of those church members who have offered to send meals and buy groceries for those under the HQO. Additionally, he notes that many members "have created prayer groups to pray for the church and our staff." 
Founded in 1950 by missionaries Valence and Lula Baird, Grace Assembly of God is celebrating its 70 year anniversary. The church started with Cantonese Bible studies geared toward children. Currently, the church, which is affiliated with the global Assemblies of God denomination, offers services in English, Mandarin, Cantonese, Hokkien, and Tagalog. The megachurch has two locations in Singapore, one in the Tanglin area and the other in Bukit Batok. Pastor Teo started working at Grace Assembly in 2018 as the Executive Pastor. In December 2019, he was installed as the church's Senior Pastor. The church sees an average attendance of 4,800 people each weekend between its two locations.
Other Churches Affected by Covid-19
Grace Assembly isn't the only church with confirmed cases of Covid-19. A much smaller church, the Life Church and Missions Singapore, has five confirmed cases linked to its congregation. The church has since stopped all services and also engaged a professional cleaning service to disinfect the premises using a hospital-grade disinfectant.
Speaking to the congregation via YouTube livestream on Sunday, Rev. Vincent Choo informed those watching that the church unwittingly had two visitors from Wuhan, China (the epicenter of the virus) in their services three weeks ago. Those two visitors have since been confirmed as carrying the virus. The three other cases linked to the church represent church members, one of whom was in an intensive care unit of the hospital as of Sunday. Choo emphasized during his message that congregants should not blame the visitors for spreading the virus. "This is not the Chinese, the Wuhan people's fault. It is also not the fault of those who came to sit among us. In times like these… we must pray for the masses, we must pray for Singapore. We must pray for the hospital staff, we must pray for China."

Currently, Singapore is reporting 58 cases of the Covid-19 virus. The MOH has issued a health advisory mandating citizens and long-term residents be placed on a 14-day leave of absence if they have returned from mainland China from January 31st and onward. The leave of absence entails staying home from work or school, avoiding public gatherings, and avoiding sharing food or having visitors to one's residence. 
Churches throughout Singapore have started taking precautionary measures to screen members and visitors to their churches in order to prevent the spread of the Covid-19 virus. For instance, the Archbishop of the Catholic Church in Singapore has ordered canteens in churches closed and church classes suspended. 
While livestreaming a service is viewed as an outreach tool in the Protestant world, the Catholic church sees it as a last resort for those who cannot attend Mass in person. Due to so many people being placed on a leave of absence, however, the Archdiocese of Singapore has announced they will be livestreaming Mass from the Cathedral of the Good Shepherd starting February 16th. In its social media post announcing the livestream, the Archdiocese reminds would-be viewers of the Vatican's position on watching a livestream service versus attending Mass in person:
"… those who hear or view these broadcasts should be aware that, under normal circumstances, they do not fulfill the obligation of attending Mass. Visual images can represent reality, but they do not actually reproduce it. While it is most praiseworthy that the elderly and the sick participate in Sunday Mass through radio and television, the same cannot be said of those who think that such broadcasts dispense them from going to church and sharing in the eucharistic assembly in the living Church." – Pope Benedict XVI, Sacramentum Caritatis, 57.
Many churches require attendees to use hand sanitizer and have their temperatures taken before entering the church. Other churches are collecting information from attendees such as names, contact numbers, and travel history, in the event contact tracing becomes necessary. The precaution doesn't end at the door, either. Many churches have also adjusted their communion practices, using pre-packaged single-serving communion cups and wafers and requiring communion servers to wear gloves and masks. 
Joseph Prince's New Creation Church is using state-of-the-art technology to help screen attendees. The church is employing thermal scanners, similar to ones used in Singapore's airports and hospitals, which don't require the use of a traditional thermometer. The church is also utilizing bio-fogging to disinfect areas used for large gatherings and children's areas.