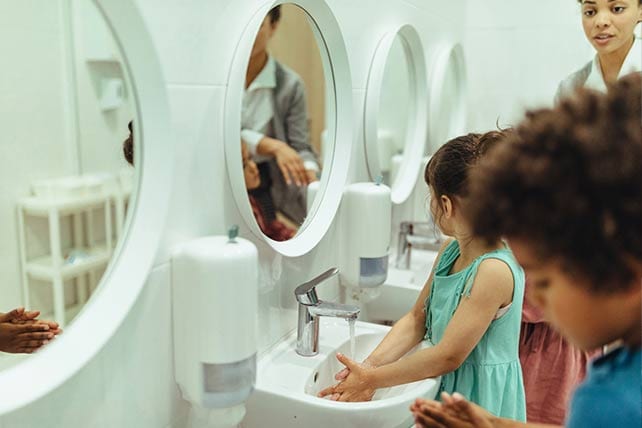 As the coronavirus continues to spread outside of the epicenter in China, churches in the United States would be wise to prepare for a potential outbreak by educating themselves about coronavirus prevention. Asian churches have been taking precautionary measures for a few months now and many have even had to close their doors for a couple weeks in order to stop the spread of infection. Is your church prepared to take such action if the need arises?
What Can We Learn From Asian Churches About Coronavirus Prevention?
Certain traditions we've adopted in our churches could be adjusted to help prevent the spread of sickness. For instance, Catholic priests in Asia adjusted how they administer the Eucharist, which is traditionally given by the priest to the parishioner by placing a piece of bread on the tongue and then offering a communal glass of wine, from which the parishioner sips. For obvious reasons, this practice was put on hold temporarily. Catholic churches in the Middle East, for instance, have also been instructed to empty their holy water fonts. Many Protestant churches had their communion ushers wear a mask and gloves as they passed out the elements. If your church practices intinction (dipping the communion bread in the wine), you might consider switching to individual servings of communal for the time being.
Does your church ask congregants to greet one another during the service or give the sign of peace? During this time, suggest your parishioners refrain from shaking hands or embracing. You might suggest passing a "holy elbow-bump" until this virus makes its way out. 
Another thing some Asian churches have limited is singing. While singing is the main way most congregations worship, singing can spread saliva droplets (potentially carrying the virus) in a room full of people. If your church decides to take this precautionary measure, what will you do instead of singing? 
Churches in Singapore started limiting non-essential meetings when the virus showed up in that city-state. As the cases continued to rise, churches started temperature screening and asked those who showed up with a fever to go home. Finally, many Asian churches had to close their doors and cancel all meetings and services for at least two weeks when members of their own congregations came down with the virus. Does your church have a system in place in the event you need to cancel your services? One thing to consider is having a procedure in place for alerting the congregation, staff, and volunteers. Will your church offer a live stream in lieu of meeting together in person? How will this work?
Coronavirus Prevention at Church
The CDC's website says there are four practical things you can do to prevent the spread of the virus. Since medical professionals believe the coronavirus spreads in a similar way to and has similar symptoms as the flu, these recommendations will likely look familiar. 
Staying home when sick: The first step is to communicate with congregants that if they or their children are sick or showing signs of the virus, they should stay home from church that week. If you have a perfect attendance challenge or something similar going on at the moment, it might be a good idea to postpone it until this outbreak is over. 
Appropriately covering coughs and sneezing: Health care professionals recommend sneezing or coughing into a tissue, or an elbow (try to avoid sneezing or coughing into your hands). Since the virus can be spread through saliva droplets, proper sneezing and coughing etiquette is more than a matter of practicing good manners at the moment. 
Cleaning frequently touched surfaces: Get your church ready by having plenty of hand sanitizer and disinfecting wipes on hand. If budget is an issue for your church, you could ask parishioners to donate these things if they are able. (Please note that the CDC recommends using hand sanitizer that contains at least 60 percent alcohol.) Instruct staff and volunteers to wipe off surfaces like desks, chairs, door handles, and light switches at the very least once a day. 
Washing hands often: Speak to children about proper hand washing techniques. They need to know to use warm soapy water while washing their hands for at least 20 seconds. An easy way for kids to remember this is to sing the ABC song twice at a normal pace. 
The CDC has posters you can print out and put up around your church that remind people to take the necessary precautions.