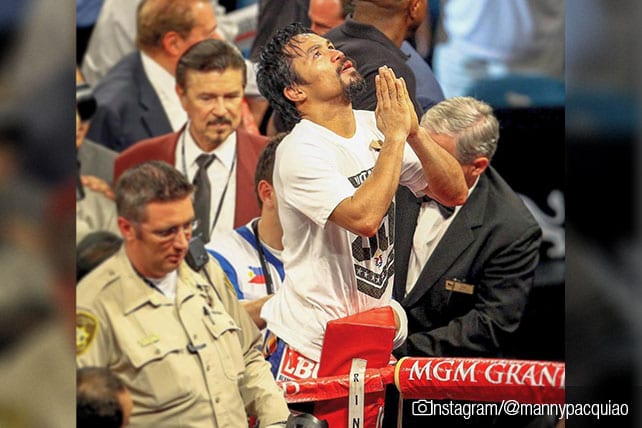 Christian boxer and Filipino senator Manny Pacquiao is committed to doing everything he can to fight the coronavirus. In addition to donating 50,000 test kits (with the help of Alibaba founder Jack Ma) and 600,000 face masks, the senator is now saying he will continue making public appearances in support of those vulnerable populations, like the poor. 
Stating he's "not afraid to die" in order to continue serving the public, Pacquiao is taking a bold stance as the Philippines battles the virus. 
"You have to lead and let people see that you are with them," Pacquiao said to the Manila Bulletin. For this reason, Pacquiao continues to make public appearances in an effort to show people that they should take precautionary measures but should not fear the virus. 
The politician also warned that looting may result from the fear and lack of resources people are experiencing. Pacquiao sympathizes with the poor, especially during this uncertain time caused by the coronavirus. "I grew up poor. I know what they feel," he told the Manila Bulletin. 
Pacquiao recently donated five buses to the government to transport health workers around metro Manila. 
In addition to his public appearances and donations, Pacquiao has also proposed a new bill intended to help stop the spread of the virus. Senate Bill No. 1406 or the "Anti-Spitting Act of 2020" would make spitting in public an offense. The proposed bill states that those who spit or "intentionally" expel "saliva, phlegm, or mucus" in public would be fined between 5,000 and 50,000 pesos. "Considering the gravity of the situation, there is an urgent need to institute a concrete preventive measure to stop the spread of the disease that has become a global health emergency," Pacquiao wrote in the bill's explanatory note.
Most recently, Pacquiao co-authored a bill along with 12 other senators, which gives President Rodrigo Duterte additional power as the country faces the coronavirus crisis. Senate Bill 1413, known as "We Heal as One Act," declares a state of emergency in the Philippines and allows the President "for a limited period and subject to restrictions, to exercise  powers necessary and proper to carry out the declared national policy." The bill allows Duterte to implement measures such as preventing people from hoarding, putting limitations on traveling, lowering interest rates, and potentially directing the operations of privately-owned hospitals and medical and health facilities.
Pacquiao was planning on returning to the boxing ring in July, but the boxing world, like many other sports, has been sidelined indefinitely by the virus. Pacquiao, who is 41, juggles his time in public office and boxing professionally. He has won 12 world titles during his lucrative boxing career. 
Pacquiao has been serving in the senate since 2016; he is currently serving a six-year term. Previously, he won a seat in the House of Representatives in the 2010 and 2013 elections.
There are currently 396 registered cases of coronavirus in the Philippines, including 33 deaths, but testing has been slow and encumbered and many fear there are thousands more cases waiting to be confirmed.