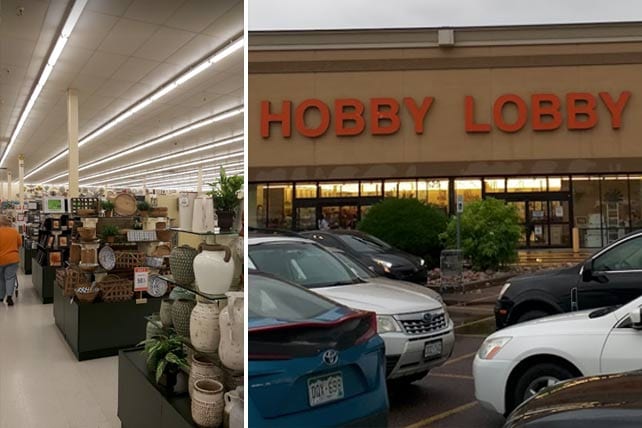 Though the list of retailers temporarily shuttering their brick-and-mortar stores due to the global pandemic is growing, it doesn't yet include Hobby Lobby. The craft chain, led by conservative Christian David Green, is facing criticism for staying open—and for reportedly basing that decision on faith.
Over the weekend, a letter from Green to employees circulated widely online. In it, the Hobby Lobby president describes a message his wife, Barbara, received from God.
Message From God: 'Guide, guard, and groom'
Calling Barbara the "prayer warrior" in the family, David Green writes, "Today, that title takes on such a different meaning than I ever imagined before because we are at war with this latest virus." He continues: "In her quiet prayer time this past week, the Lord put on Barbara's heart three profound words to remind us that He's in control. Guide, Guard, and Groom. We serve a God who will Guide us through this storm, who will Guard us as we travel to places never seen before, and who, as a result of this experience, will Groom us to be better than we could have ever thought possible before now."
Though the future is uncertain, Green writes, "God is in control." Hobby Lobby's leaders "are doing all they can to balance the need to keep the Company strong and the need of employees," he writes, adding that "we may all have to 'tighten our belts' over the near future."
Hobby Lobby has 'proactively implemented measures'
On its website, Hobby Lobby says it's monitoring developments and has "proactively implemented measures" such as "enhanced store cleaning" and restricting travel. Any employees who develop virus symptoms will be sent for medical care and self-isolation, the company notes.
When the company posted new ads and coupons online yesterday, social media users lambasted the decision to remain open, with some criticizing the chain's lack of sick leave for hourly workers. One person tweeted: "Closed on Sundays for church but won't protect employees from a pandemic. Separation of church and craft!" Another tweeted: "We all know David Green & the lovely Barbara aren't staffing any Hobby Lobby registers during plague season. No, they're safely ensconced at home or on a yacht, far away from the plebes they're putting in harm's way to keep their $$ trickling in."
David Green, worth an estimated $6 billion, is no stranger to controversy. In 2014, his company successfully challenged an Obamacare mandate about providing birth control coverage for employees. His family's Museum of the Bible unknowingly purchased smuggled antiquities and displayed fake Dead Sea Scrolls fragments.
For now, Hobby Lobby's competitors—including Michaels and JOANN—also remain open. In other industries, retailers have switched to curbside pickup or online ordering.
Some people are defending Hobby Lobby, saying customers can take responsibility. One Facebook user writes: "Is it Hobby Lobby's fault that people leave their homes and release themselves from quarantine because they need a jar of glitter … no. If no one was coming into the store they would close. … So police yourselves, stay home. Everything non-essential would shut down and we will all get out of this faster."