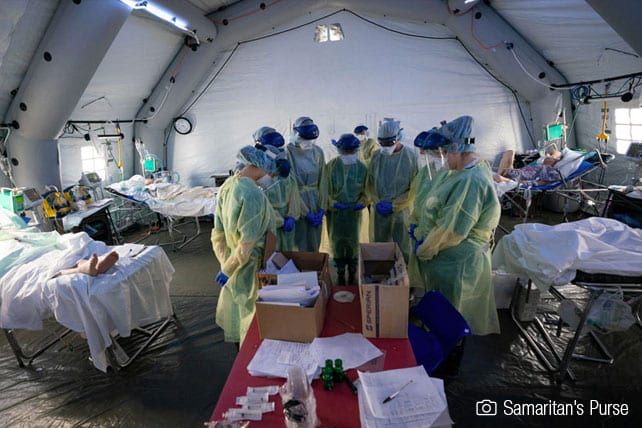 In a matter of four days, Samaritan's Purse came to the aid of overtaxed New York City hospitals by erecting an emergency hospital unit in Central Park adjacent to Mount Sinai Hospital.
"In order to meet the needs of the coming surge, we must work as a united front in order to save as many lives as possible," said Margaret Pastuszko, COO of Mount Sinai Health System, referring to the overwhelming number of COVID-19 cases New York City is experiencing. "We are grateful for the collaboration with Samaritan's Purse who have come to the aid of the people of Italy and now New York."
Samaritan's Purse Emergency Hospital Unit Is Self-Sufficient
The 72-member Disaster Assistance Response Team designated for the emergency hospital unit includes doctors, nurses, and other medical personnel. According to Religion News Service, these personnel are coming from different parts of the country and have been contracted by Samaritan's Purse. The medical team will be led by Dr. Elliott Tenpenny who has experience treating Ebola patients in West Africa, Syrian refugees in Iraq and earthquake victims in Ecuador.
The emergency hospital is composed of 14 tents and has 68 beds that can treat patients who need respiratory care–10 of those beds are in an intensive care unit that can treat patients who need a ventilator. The unit has been erected across the street from Mount Sinai Hospital on 98th Street and Fifth Avenue. The unit is "self-sustained," meaning it won't have to draw on staff or resources from the hospitals it seeks to help. Walk-ins to the emergency hospital will not be received; rather, patients will be transferred from Mount Sinai hospitals as the need arises.
Leaving the organization's North Wilkesboro, North Carolina warehouse on Saturday morning, six trucks brought the equipment needed for the unit to New York City. The equipment arrived Saturday night and a team went to work on assembling the field hospital Sunday morning. Local volunteers from the city's churches helped the North Carolina team assemble the hospital in about three days. 
As impressive as this quick action is, not everyone is totally thrilled about Samaritan's Purse being the ones to erect the emergency unit. An article in the Gothamist refers to Samaritan's Purse leader Franklin Graham as a "virulently anti-LGBTQ and Islamaphobic preacher." This label, or something similar, has been used to describe Graham, the son of the late Billy Graham, by many. Earlier this year, Graham had to postpone several already-planned and publicized summer events in the United Kingdom after several venues dropped their agreements with the Billy Graham Evangelistic Association (BGEA) to host his Franklin Graham tour. The agreements were dropped due to Graham's outspoken stance on homosexuality and previous controversial statements he's made about Muslims. 
New York City Mayor Bill de Blasio admits he wanted to ensure certain stipulations were met before allowing Samaritan's Purse to operate the field hospital. De Blasio said he wanted assurance that the answer to the following question was affirmative: "Was there going to be an approach that was truly consistent with the values and the laws in New York City, that everyone would be served and served equally?" Speaking to reporters on Tuesday, de Blasio also mentioned "We're going to send people over from the Mayor's Office to monitor" the field hospital. Ultimately, the mayor is concerned the aid Samaritan's Purse provides "is done right. But if it is done right, of course, we need all the help we can get."
Samaritan's Purse has a long reputation for helping everyone it can in times of crisis. In fact, this is not the first time the evangelical organization has set up a field hospital. The North Carolina-based nonprofit started using such units in 2016 while providing assistance in response to an earthquake in Ecuador. They have also used the emergency units in Iraq and the Bahamas. Most recently, Samaritan's Purse flew equipment for an emergency field hospital to Italy to assist the overwhelmed hospitals in that country.
Samaritan's Purse Has Similar Unit in Italy
Since March 20th, Samaritan's Purse has been operating a 14-tent unit adjacent to Cremona Hospital just outside Milan, Italy. The organization was able to fly the unit, along with 20 tons of equipment and medical personnel, to Italy on its DC-8 plane. While Samaritan's Purse treats everyone in need at their emergency facilities, they do ask for Christian medical personnel to help them. The organization believes prayer to be a critical component in providing care, which is likely why they stipulate they prefer to contract with Christian personnel. 
At the field hospital in Italy, for instance, medical personnel have committed to spending the time they take washing their hands (at least 20 seconds each time, dozens of times a day) to praying for each of their patients. "Jesus is the only one who can help us right now," said physician's assistant Stephanie Morales. "We've got a situation where we've got a virus that cannot be treated by antibiotics."