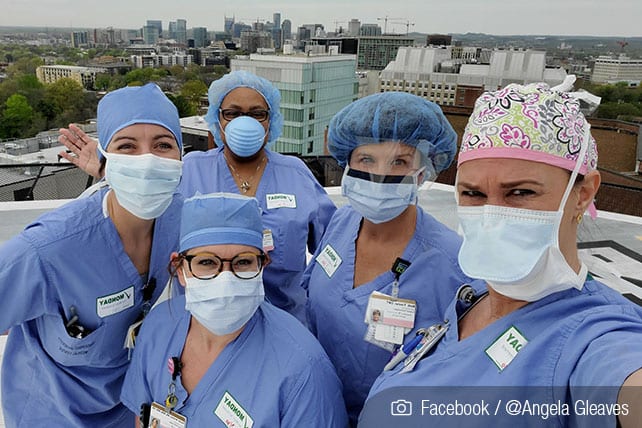 Numerous stories are popping up throughout the country about church and community members who are gathering in the parking lots of their local hospitals to pray for medical staff. While still practicing social distancing, people are showing God's love to those who are working long hours and risking their health to help others during the coronavirus pandemic.
"These last few days have been really tough and, and it's gonna get tougher," said Madeline Vick, who is a registered nurse at East Alabama Medical Center (EAMC) in Lee County. "Having the community behind us, having the churches and so many people of faith praying for that, in and of itself gives us strength."
Laura Eason, a chaplain at EAMC, decided to start "park and pray" gatherings after a friend who is married to a hospital worker suggested the idea. Now, community members meet outside EAMC at 7 a.m. and 7 p.m. daily to pray for the medical staff. After 30 minutes of prayer, those gathered flash their car lights to show their support.
Showing Medical Staff the Love of Christ
Stefanee Tolbert, who is the principal at Life Christian Academy in Sulphur, Louisiana, recently spearheaded a similar event in her area. After she posted about her park and pray idea on Facebook, people in the community showed up last Sunday to support medical staff at three local hospitals. Supporters stayed in their cars to honor social distancing guidelines, praying and flashing their car lights. 

Tolbert told KPLC News, "We had well over 100 vehicles and some had families in them so well over 200 people…to have that caravan go to each hospital and even at the last hospital to still have that many people…it was amazing." Organizers are also considering doing a park and pray event for local law enforcement.
The members of a church in Americus, Georgia, had a different take on the park and pray idea. Instead of parking in the lot, they formed a circle around the Phoebe Sumter Medical Center last Saturday and prayed and flashed their lights.
Jackie Jenkins, a church attendee in Rome, Georgia, woke up last Thursday with the idea to do drive-in prayer circles around two local hospitals. She said, "I've been a churchgoer all my life. I believe in prayer and I believe in church. When I woke up with the thought on my mind, I prayed about it, and God said 'Let's do it.'"
People in Bartow County, Georgia, came together last Thursday to pray and worship with the workers at Cartersville Medical Center. The tweet below shows medical staff standing on the roof of the building, worshipping with the hundreds gathered in the parking lot below. 
Best thing I've seen today. Doctors and Nurses singing "Waymaker" over the hospital they work at.

God you're still working in the midst of all of this! pic.twitter.com/7ym7gLp9xq

— Jason Romano (@JasonRomano) March 29, 2020
"We bombarded Heaven with our prayers," said Camden McGill, who helped organize the event. "The medical staff was just on the roof just crying, balling [sic] their eyes out. We've already had testimonies coming in from that. It's just a blessing all credited to the Lord."
Other states where people are holding park and pray events include Arkansas and Indiana.
Hospital worker Michael McFarlain told KPLC News, "It meant a lot to be able to leave a shift like this, worn out, exhausted, fearful, anxious and to come out to this display of God's grace and peace…we were all in tears and truly overwhelmed."