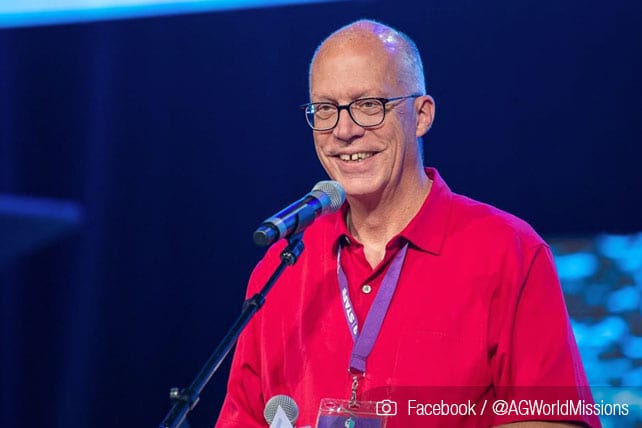 The Executive Director of the Assemblies of God World Missions (AGWM) organization has contracted the coronavirus and is currently in the midst of what has been a weeks-long battle for his life. Greg Mundis is among several AGWM employees and missionaries who are currently battling the virus–some from hospital wards around the world.
On March 18th, AGWM sent out a prayer request concerning Mundis, indicating he had tested positive for COVID-19 and that he had been hospitalized. The successive updates indicated he had been intubated and put on a ventilator. Additionally, he was undergoing dialysis for kidney function impairment. 
Mundis, who lives in Missouri, had to be airlifted from an undisclosed hospital to Barnes Jewish Hospital in St. Louis, Missouri on March 31st. He is currently in a pulmonary unit for specialized care for COVID-19 patients. According to an update posted today, Mundis is making some progress:
His first day of treatment April 1 was very eventful. "The staff at BJH are incredible and far exceed even what their amazing reputation deserves," says Greg and Sandie's son, Dr. Greg Mundis. "Over the last 24 hours they have performed many tests to get an idea of Dad's current medical condition. Fortunately, their experience with #COVID19 is growing and they are hopeful for my father even in the wake of his critical condition."
More AGWM Staff and Missionaries Hospitalized
Additionally, AGWM staff member, Ron Maddux, the organization's Northern Asia regional director as well as "a number of our missionaries" have been hospitalized due to COVID-19, according to a March 26th update. 
A prayer request from AGWM on March 27th gives a little more detail concerning the other staff members who are undergoing treatment in hospitals:
Prayer Requests and Update (3/27/20):
Devote yourselves to prayer, being watchful and thankful.
— Colossians 4:2, NIV
Greg Mundis remains in ICU on a ventilator. His son, Greg Jr., gives daily updates, but progress is slow, with gradual improvement.
Greg's wife Sandie is better, though COVID-19 positive, and quarantined at home. Overall, her health is improving.
Ron Maddux remains in the hospital, stable and progressing. Continue to pray for his oxygen levels to improve and remain higher. We rejoice that his wife, Penny, remains healthy without any COVID-19 symptoms.
Thomas Carpenter remains in the hospital on a ventilator. Day-to-day reports are up and down as physicians work to wean him off ventilator support.
Phyllis Benigas remains in the hospital in Belgium, making progress but still in need of healing for her lungs.
Andy and Nancy Raatz, Delyn Cole (Chi Alpha), and another AGWM employee also continue to recover from COVID-19.
Pray for the ongoing healing, peace and protection of each one of these leaders, and praise God with us for the progress being made.
COVID-19 has impacted much of the world, and we encourage you to pray also for churches and pastors facing disruption and uncertainty, missionaries in countries where borders are closed, and friends dealing with loss of job and financial pressures.
AGWM has over 2,700 missionaries around the world. On March 13, 2020, the organization placed its missionaries on "indefinite international travel restriction." However, the world missions organization assures its supporters they are committed to fulfilling the Great Commission and that their work will continue. "Though none of us imagined such a scenario, I want to reassure all of you that our organization and mission continue moving forward," writes Doug Clay, General Superintendent of AGWM. "Jesus said that He would build His Church, and the gates of hell would not prevail."