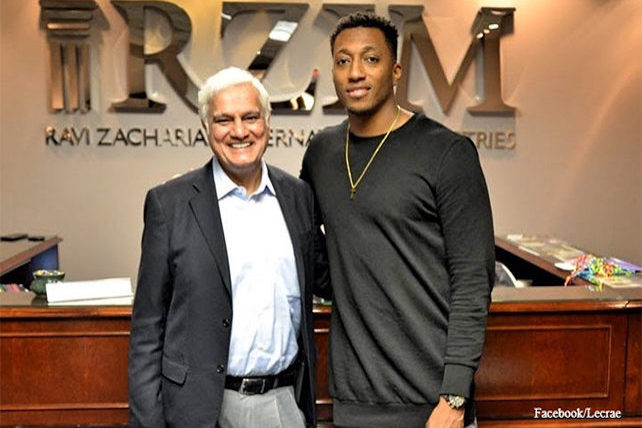 Editor's Note: After the publishing of this article, an independent investigation found allegations implicating Ravi Zacharias of sexual abuse to be credible. Prior to this report, ChurchLeaders had published multiple articles about Ravi Zacharias and his ministry. Although our editorial team believes his work still has value since it involved articulating the truths of God's Word, we would be remiss not to disclose the painful truth of Mr. Zacharias' personal actions that have come to light following his death. For further reading, please see:
Sexting, Spiritual Abuse, Rape: Devastating Full Report on Ravi Zacharias Released
The Story Behind the Ravi Zacharias Allegations (Part 1): Lawsuits, NDAs, and Email Threads
The Story Behind the Ravi Zacharias Allegations (Part 2): 'Cursory' Investigations and More Accusations
---
Christian recording artist Lecrae, once an atheist, is crediting beloved apologist and speaker Ravi Zacharias with giving him the tools to navigate "hard questions."
In a Facebook post published Monday night, the rapper asked, "What in the world ties a black kid from hip hop culture to a scholar from Delhi, India?"
Lecrae revealed he would often finish his concerts and head back to his tour bus, where he'd spend hours poring over Zacharias' videos and lectures. Lecrae said, "I used to find myself on tour rapping in front of thousands of people, leaving stage and coming back to my tour bus devouring his videos and lectures. As a former atheist and skeptic, now believer, I wanted my peers in the culture who didn't believe to have answers to hard questions. 'Why is there evil in the world?' 'Where is God in the midst of suffering and injustice?' I would digest his lectures in front of prestigious universities and craft the insight into my own language."
Lecrae is a Christian hip hop recording artist, songwriter, music executive, and actor. He is the president, co-owner and co-founder of the independent record label Reach Records.
"Because of #RaviZacharias I had answers to hard questions," Lecrae posted. "Who would've thought a tour bus full of young rappin city kids would go in between watching Hip Hop award shows to theological debates and lectures. I just want to give this man his roses while he's still here. I know God is likely taking him home soon, but Im glad he was here during my lifetime."
Zacharias' daughter, Sarah Davis, posted on May 9 that "we have just learned that while the tumor in my dad's sacrum has been responding to the chemotherapy, the area where the cancer metastasized has actually worsened. His oncologist informed us that this cancer is very rare in its aggression and that no options for further treatment remain. Medically speaking, they have done all they are able."
Davis, the CEO of Ravi Zacharias International Ministries (RZIM), wrote this in an update posted to the apologist's Facebook page.
---
frameborder="0″ scrolling="no">