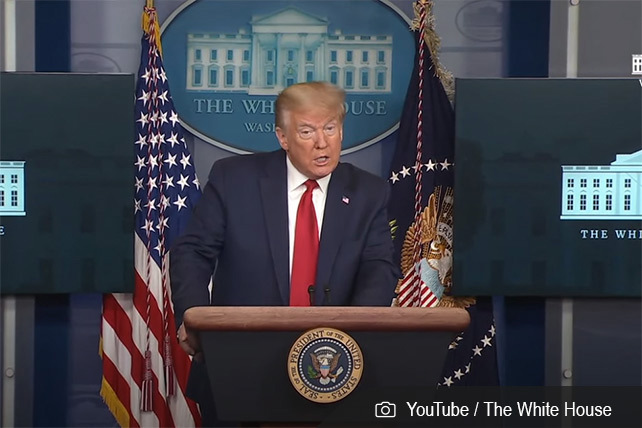 On Friday May 22, President Trump declared that churches are essential and ordered that churches open this Sunday, Memorial weekend. Trump also ordered the Centers for Disease Control to deliver guidelines for faith communities. Later that day, the CDC issued "Interim Guidance for Communities of Faith."
Trump opened the press conference with, "Thank you very much. At my direction, the Centers for Disease Control and Prevention is issuing guidance for communities of faith. I want to thank Dr. Redfield and the CDC for their work on this matter and all the other work they've been doing over the past what now seems like a long period of time."
He then continued, "Today I'm identifying houses of worship, churches, synagogues, and mosques as essential places that provide essential services. Some governors have deemed the liquor stores and abortion clinics as essential but have left out churches and other houses of worship. It's not right. So I'm correcting this injustice and calling houses of worship essential.
"I call upon governors to allow our churches and places of worship to open right now. If there's any question, they're gonna have to call me, but they're not going to be successful in that call. These are places that hold our society together and keep our people united. The people are demanding to go to church and synagogue, go to their mosque.
"Many millions of Americans embrace worship as an essential part of life. The ministers, pastors, rabbis, Imams, and other faith leaders will make sure that their congregations are safe as they gather and pray. 
"I know them well. They love their congregations. They love their people. They don't want anything bad to happen to them or to anybody else.
"The governors need to do the right thing and allow these very important essential places of faith to open right now for this weekend. If they don't do it, I will override the governors.
"In America, we need more prayer not less. Thank you very much."
Trump's declaration that all churches are essential — as essential as liquor stores — was met with cheers and jeers.
President Trump was cheered by many. He was lauded as a great leader who is leading the way in religious freedom.
These comments were left on YouTube.
Thanks Commander in Chief, In God We Trust, Be Strong, United and Safe, Amen 🙏🙌✨🕊❤️🗺❤️🕊✨🙌🙏
We love you, President Trump! Thank you for your hard work during this virus war. Love you and thank God for you.
And he was jeered by others. Some wondered that if church is essential to our country whether it is essential to the president.
As Trump leaves the podium after announcing that he has deemed houses of worship 'essential,' a reporter repeatedly asks him, "Mr. President, will you be going to church?" There is no response.

— Kyle Griffin (@kylegriffin1) May 22, 2020
The church never stopped meeting, many said. Church leaders and members took to social media to say their church never stopped meeting–whether in social distancing ways or virtually.
Wait, the church been closed for 8+ weeks? And here I thought the online services, meals and food donations, small groups, phone calls, prayers, and doing all in our power to do no harm by sheltering in place was the church openly doing its essential best.

— Kirkland Reynolds (@kirkrey) May 23, 2020
The church is stronger than ever, many declared. Some church leaders have emphasized that when the church went online, their reach increased.
"Church went online, and everyone showed up," wrote Allen White, author of Exponential Groups: Unleashing Your Church's Potential. "Churches across the country have reported online attendance that is double their average weekly adult attendance or more."
In fact, some reports are celebrating The Great Quarantine Revival, claiming that over 100,000 people have come to Christ while the church met virtually.