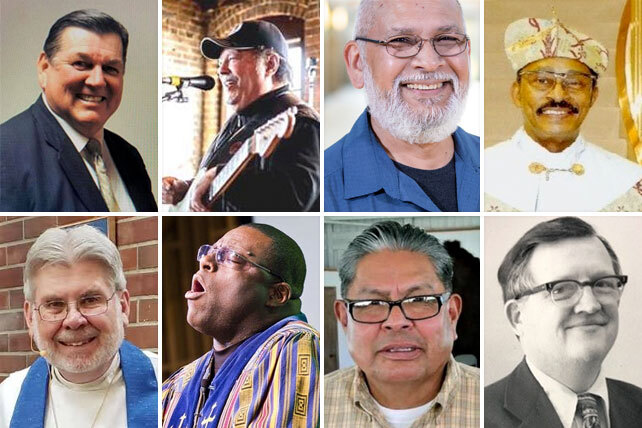 Among the 1,000 mothers and fathers, grandparents, mentors, inventors, accomplished artists, and more eulogized in Memorial weekend's New York Times front page obituary were these men: 8 church leaders who have died from Covid-19 in the last few months.
If you haven't read it yet, the online experience of "An Incalculable Loss" will change you and enable you to grieve and honor those who have died from Covid-19. Reading it is a holy experience of mourning.
100,000 images of people. 1,000 people with one-line eulogies. People who lived rich lives and were beloved. 
Who took their families to church every week. Who sang in the choir. Served at church raffles. 
Who were in church bowling leagues and prayer groups.
Who served as deacons and Sunday school teachers.
Who loved Jesus and Elvis.
Who made the best food and told the best jokes.
Who survived wars, the Holocaust, and the Spanish Flu.
Who rose each morning at 5 a.m. to read the Bible.
Who were healthcare workers and first responders.
Who died in hospitals and who died alone. 
We honor them.
While thankful for the powerful tribute to these people, we at ChurchLeaders.com want to pay homage to some of the church leaders mentioned in the New York Times' article by telling more of their story.
8 Church Leaders Who Have Died From Covid-19
Ordained minister.
Merle C. Dry, 55, Tulsa, Oklahoma
Dry's obituary revealed "he was passionate about the things of God. Besides being with his wife and children, he was happiest when he was doing something for the church or for the people of the church. It wasn't a duty to him; it was a privilege to give himself to the service of others. Merle had a deep heart for children's ministry. His efforts at Crusaders Camp over the last several summers impacted hundreds of lives for the Kingdom of God. One of the proudest moments of his life as a preacher was when he became an ordained minister with the United Pentecostal Church International on March 27, 2015. Merle was an active member of the Metro Pentecostal Church, Tulsa, Oklahoma. He was on the ministerial staff, and was an acting church board member."

Preacher and blues guitarist.
Landon Spradlin, 66, Concord, NC
Emily Brumfield-Hessen wrote of Spradlin on ForeignPolicy.com: "He'd 'witness' on street corners and try to get people to kneel on the sidewalk and accept Jesus, even if they'd been lifelong church-goers. He'd go to parties, condemn the drinking, and try to 'save souls.' My earliest memory of him was the loud baptisms he performed in the lake in front of my neighbor's house. He could be obnoxious and self-righteous at times…He was a traveling musician who frequently went out of his way to help the forgotten and the downtrodden, and he never had much money. He condemned drugs and alcohol, but he tried his best to help addicts recover and give them a place to stay when they had nobody else."
Assistant Pastor.
Angel Escamilla, 67, Naperville, IL
Escamilla was a pastor at Calvary Church of Naperville. The Chicago Sun-Times reported that "according to the church's website, Escamilla served for more than 40 years as a pastor, missionary, teacher and associate pastor. Escamilla was married for more than 40 years, and has two sons and 10 grandchildren, according to the website."
Lead pastor Martyn Sloan wrote of him that he "had the spirit of a dove, the strength of a warrior, the faith of Abraham and when he prayed you knew he was talking to Heaven. If anyone ever spoke into the heavens in prayer, it was Pastor Angel. He will be forever missed on our team and in the church family."