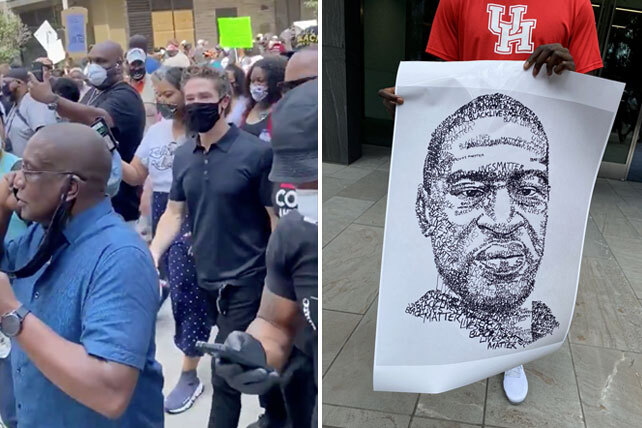 Some 60,000 people took to the streets of Houston, Texas yesterday to honor the life of the late George Floyd who died while being detained by Minneapolis police. Sixteen of Floyd's family members attended the Houston march, along with other high-profile professional athletes, musicians, and faith leaders. One such faith leader was Joel Osteen, pastor of Lakewood Church in Houston. 
"I don't believe George Floyd's death will be in vain. God knows how to take what was meant for harm and somehow bring good out of it," Osteen told a reporter. The megachurch pastor added, "This can be a turning point in our city and in our nation. We can learn to love and accept each other in spite of our differences." 
Osteen said he "came out here to support the Floyd family, tell them that we love them, we grieve with them, we care about them," and that he stands with "black brothers and sisters" because "we are all made in the image of God."
.@JoelOsteen marching in #GeorgeFloydProtest #abc13 pic.twitter.com/wgN0Cxojds

— Chauncy Glover (@ChauncyOnTV) June 2, 2020
Floyd Family Calls for Peaceful Houston March
According to ABC News 13, Osteen actually walked with Floyd's family members during the march. March leaders included rappers and activists Bun B and Trae tha Truth. Members of Floyd's family spoke to the crowd, appealing to them to keep the demonstration peaceful out of respect for their late family member. 
"I just want to say thank you to everyone for coming out. We really appreciate all the support Houston has shown us. And we know that we're just beginning the fight, it's going to be more like a marathon, and we hope that you'll continue to support us as we seek justice for our cousin and our brother," one female family member told the crowd.
A male family member pleaded with the crowd to remain peaceful by saying, "They're expecting you to behave unbecoming; they're expecting you to behave like a fool. But we don't have to do that."
Another male family member said "We've got to do this the right way. The violence isn't going to help him. Help my brother rest in peace." 
Pastor John Gray also joined the march and prayed over the group of marchers, asking God to give them wisdom. 
The Houston march started at Discovery Green and ended at City Hall. It lasted into the evening, eventually dying out around 11 pm local time. According to local news station Click 2 Houston, "Some people in the crowd started throwing items like water bottles but were quickly thwarted by other protesters as they tried to maintain the peace." While some 200 people were arrested during the march, the police department of Houston commented this is an "extremely low" number considering the amount of people that participated in the march. The department also said they hadn't received reports of any major property damage or injuries. 
This is an extremely low number of arrests considering the thousands of people in our community who marched and demonstrated peacefully today.

We're not aware of any significant property damage or injuries.

We will have updated arrest numbers/info later this morning.

— Houston Police (@houstonpolice) June 3, 2020
Houston mayor Sylvester Turner also commented on the overall peacefulness of the march.
60,000 people from across our diverse City marched peacefully with the family of #GeorgeFloyd and I could not be more proud of Houston. As Mayor of this City I want to thank again our police officers for their restraint, professionalism, and service. st

— Sylvester Turner (@SylvesterTurner) June 3, 2020