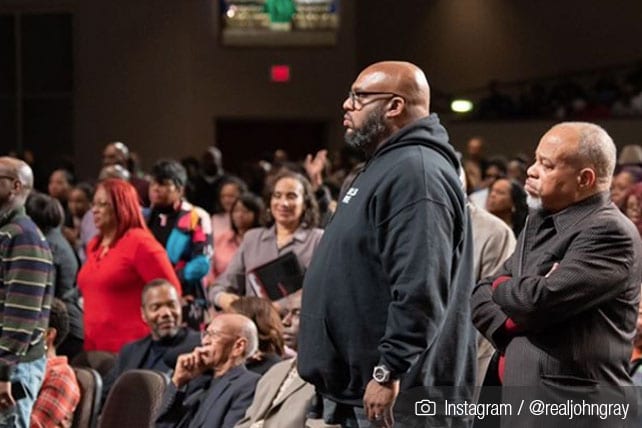 During New Year's Eve worship services at The Relentless Church in Greenville, South Carolina, Pastor John Gray rang in 2020 by acknowledging, "We're not even supposed to be here right now." Though the headline-making pastor didn't elaborate on his megachurch's plans, as had been expected, he seemed determined to protect his congregation from "people who want to see this church die."
Gray, who's also an associate pastor at Joel Osteen's Lakewood Church in Houston, formed Relentless in 2018. Since then his national profile has risen, but the publicity hasn't always been favorable. Gray has faced criticism for lavish spending, addressed rumors of marital infidelity, and is now embroiled in two lawsuits—one of which involves possible eviction for Relentless. Last week, the Oprah Winfrey Network cancelled the pastor's TV show, The Book of John Gray.
Lifestyle of Pastor John Gray Has Been Under Fire
For Gray and his wife, Aventer, who's also a pastor at Relentless, controversy began soon after moving to South Carolina. Relentless Church reportedly spent $1.8 million on a home for the Grays. The church soon faced financial woes and layoffs, causing Gray to ask the congregation for $250,000 to replace the sanctuary roof. 
In December 2018, Gray made headlines when he gave his wife a $200,000 Lamborghini Urus as an anniversary gift and posted her reaction on social media. Faced with backlash, Gray defended the purchase. "Not a nickel, not a penny from this church, Relentless Church, went toward the gift that I gave my wife," he said in a video posted online. The purchase was possible, he added, because of "resources" he received through his books and TV show.
"I have created and been patient my whole life for this moment," Gray said at the time. "I'm supposed to wait until I'm 70 to live my best life? And my best life is making my wife happy."
Gray continued: "It wasn't a pastor that bought the car; it was a husband that bought the car. Get that in your spirit. I'm a husband first. Don't confuse what I do with who I am. What I do is I pastor God's people. Who I am is a husband and a father. And I'll do anything to honor them. And I won't ask permission from anybody to do it. No man should."
Aventer Gray defended her husband, posting on social media, "I don't see anyone screaming about how basketball players drive what they do while you paying $$$ to see them play." Before buying his wife the high-end car, John Gray had admitted to an "emotional affair"—but denied rumors of fathering a child outside his marriage.
During the Lamborghini uproar, Washington Post columnist Michelle Singletary wrote that she doesn't care what John Gray does with his money, but she faults him for bragging. "When you hold certain positions, like that of a pastor, you should show restraint in the exhibition of your wealth," she writes. "The optics of the anniversary gift was a mistake. It took the focus off his ministerial work and put it on his material wealth." Singletary's advice to Gray? "Live your best life without having to show the world how rich you are."
In April 2019, Pastor Jomo Johnson urged John Gray to embrace minimalism and take #TheJesusChallenge. Gray also has been featured on the PreachersNSneakers Instagram page, which showcases church leaders decked out in expensive clothing.
The Grays are often seen with celebrities, pro athletes, and entertainers. Last week, Aventer Gray posted vacation photos from a yacht.
Amid Controversy, Relentless Is Also Known for Generosity
Negative press took a toll on John Gray, who admitted at the end of 2018 that he had battled suicidal thoughts and been on the verge of divorce. "I wanted to call it quits," he said. At a pastoral conference in January 2019, Bishop T.D. Jakes prayed over Gray, saying, "You don't get to quit." Jakes added, "You're gifted; you're anointed. You've always been gifted because you've been broken. … And God is touching you. He's using it to touch you. He's going to make a man out of you."
Despite all the criticism and turmoil, Gray and Relentless Church also have a reputation for helping others financially. Right before Christmas, the church gave more than $30,000 to congregants, employees, and regular visitors who were facing tough times. Grateful recipients were informed that the church was taking care of necessities such as electric bills, medical expenses, rent, and even a car. In the past, Gray has invited worshipers in need to take money from the offering plate.