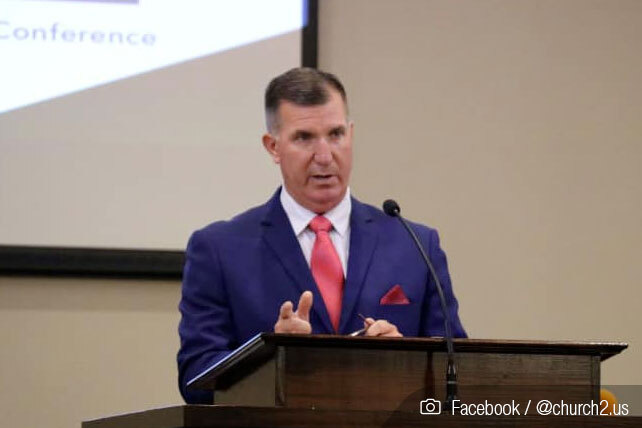 The pastor of a church in Sanford, Maine, and his congregation have become the subject of much ire in that state. After officiating a wedding that's been linked to 158 cases of COVID-19 and 3 deaths, and after eschewing social distancing protocols at his church, Pastor Todd Bell says he and his family have received death threats.
"The pastor and his family have received several death threats. One credible threat against the entire church was sent directly to the local police department," attorney David Gibbs III, president of the National Center for Life and Liberty, told reporters. 
However, Maine Public Radio reports that Sanford's Chief of Police Thomas Connolly wouldn't go straight to calling it a threat.  "I guess you could say, you know, you could construe it to be a threat," Connolly said. "But it really was not by definition threatening."
What Is Todd Bell's Connection to the Outbreak?
Maine health officials have traced an outbreak of COVID-19 cases (the largest outbreak to date in the state) back to a wedding event. On August 7th, Pastor Bell traveled to Millinocket, Maine, to officiate a wedding for a couple who attends his church. Several members of the Calvary Baptist Church in Sanford also attended. 
In a statement released by the church, they say a staff member of the Big Moose Inn, where the wedding reception took place, was infected with the coronavirus. Officials believe wedding guests (55 of whom have confirmed cases) went on to spread the virus to the York County Jail (18 staff and 48 inmates are infected), Maplecrest Rehabilitation and Living Center in Madison (21 cases), the Big Moose Inn (3 cases), the East Millinocket School Department (2 students, 6 staff), and at the Calvary Baptist Church itself (10 cases). 
While it's hard to determine who the original spreader was (or if there were multiple people infected at the time of the wedding), Bell is critical of the fact that Maine health officials are investigating the link between the wedding and the now 10 positive cases among church members.
"What's not being reported is that those that were COVID positive are finished quarantining and in church tonight," Bell said in a sermon preached last weekend, which has since been removed from the church's website and YouTube page, along with all other content. Additionally, the church's Facebook page has been suspended. Gibbs indicated to reporters this was to protect the church from further harassment. 
Todd Bell Addresses the Controversy From the Pulpit
Bell has been criticized for holding in-person services where it appears social distancing protocols are not being followed. A Maine Public Radio report from Monday, September 7th, noted that unmasked choir members stood shoulder to shoulder as they sang the opening hymns at Sunday's service.
Additionally, the church opened its private Christian school, Sanford Christian Academy, this week for classes, including sports activities. 
Bell also told his congregation that a coronavirus vaccine would contain aborted fetal cells and that it would be better to put one's faith in God for protection.
"I'll tell you what the world wants all the churches to do," Bell said. "They want us to shut down, go home and let people get used to that just long enough until we can finally stop the advancing of the Gospel."
The church commissioned Gibbs and the National Center for Life and Liberty (NCLL), a nonprofit legal ministry, to represent them, although nothing has been released about what legal action the church may be planning to take at this time. However, Gibbs did say the church was taking precautions to prevent the spread of the coronavirus.
Strained relations between the church and the community are becoming increasingly obvious. York County Shelter formerly used Calvary's building to distribute food and other resources to low-income families and individuals in the community. After the outbreak, though, the shelter moved its operations outdoors and effectively barred church members from helping distribute meals, according to local news outlet WGME.