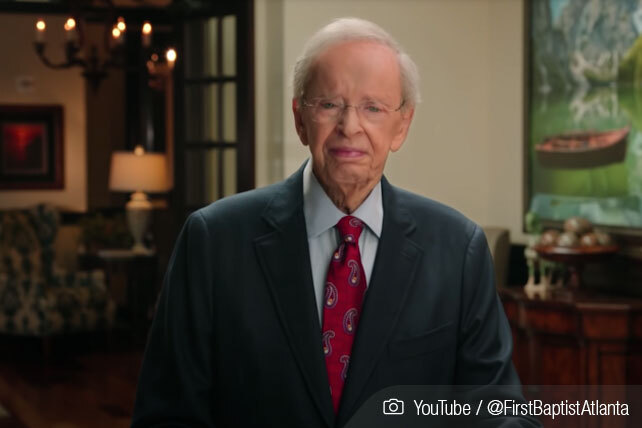 Dr. Charles Stanley has served First Baptist Church Atlanta for over 50 years. The 88-year-old pastor announced this Sunday that he is officially stepping down and handing over his position to Dr. Anthony George. However, he will remain visible in some capacity in the church as Pastor Emeritus. Stanley, who has often said he doesn't believe in retirement, assured the congregation that he would not be idle in this next season of his life.
"As much as I love being your pastor, I know in my heart this season has come to an end," Stanley told the congregation via a short video message on Sunday. Stanley made his comments following the message given by George. 
I'm Not Retiring, Stanley Says
Stanley told the congregation that it has been a difficult decision to step down as he loves the church. "I love all of you and I love all that God has done through our partnership together." 
He admitted he initially resisted the call to come to First Baptist Church Atlanta, but now feels grateful that "God saw fit to allow me to serve as your pastor for more than 50 years." Stanley thanked the congregation for "extending grace and mercy" to him and his family over the years—especially during difficult seasons. "I have few regrets and I have many wonderful memories."
Stanley, who famously said he doesn't believe in retirement, indicated he will focus his energy elsewhere. "I will focus the next season of my life on my opportunities at In Touch," he said, referring to the ministry he started in 1977.  "I will continue to preach the Gospel as long as God allows," Stanley added. In Touch Ministries distributes Stanley's preaching via video, magazine, and radio to a global audience. According to the In Touch website, Stanley's messages are broadcast "on more than 1,200 radio outlets, 130 television stations/networks, and language projects in more than 50 languages."
Despite the fact that he won't be preaching regularly or leading First Baptist Church Atlanta, Stanley says his goal remains the same: "To get the truth of the Gospel to as many people as possible as quickly as possible in the power of the Holy Spirit to the glory of God." The veteran pastor is also confident in George's ability to lead the church. "I have no doubt there are many great days ahead for the First Baptist Church of Atlanta." 
New Pastor Praises Stanley's Contributions to First Baptist Church Atlanta
Following Stanley's video announcement, George thanked him for "being strong and of good courage through every battle you've had to fight, through every trial you've had to overcome." George, who has served as the church's associate pastor for eight years now, went on to praise the senior pastor for his decades-long service to the church and to express how much the congregation loves him:
Serving you as your assistant, Dr. Stanley, and serving this church as its associate pastor for these 8 and a half years has truly been the honor of a lifetime. It will be your legacy, sir, that is my standard. The standard that will inspire me to always do my best with God's help for as long as God gives me to serve here…I can say with absolute confidence that there has never been a church anywhere, at any time in history, that loves its pastor more than First Baptist Atlanta loves Charles Stanley. We will forever love you and be indebted to you for your faithful service across 51 years.
Stanley moved from Florida to take an associate pastor position at First Baptist Atlanta in 1969. Two years later, Stanley took over as senior pastor of the church. In addition to serving the church, Stanley also held the position of President of the Southern Baptist Convention in 1984 and 1985.
On Sunday, he told the congregation that he was grateful that he and his wife, Anna, got to raise their two children, Pastor Andy Stanley of North Point Church in Alpharetta, Georgia and Becky Stanley Broderson, of Dallas, Texas, in the church. Anna Stanley passed away in 2014. 
"My hope is that the greatest days are still ahead," Stanley said in conclusion. 
---
This article has been updated to correct an error. We originally referred to Dr. Anthony George as Dr. Anthony Joyce.