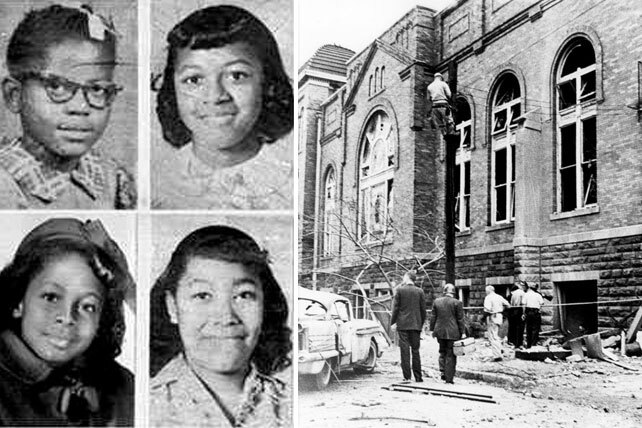 Today is the 57th anniversary of the murder of four girls who were killed when members of the Ku Klux Klan (KKK) set off a bomb in the 16th Street Baptist Church in Birmingham, Alabama. While the church was not able to hold an in-person memorial service this year because of restrictions due to COVID-19, senior pastor Rev. Arthur Price, Jr., invited people to watch a recording of last year's service online. 
"We want to remember how our foreparents became agents of change," said Price, "and they advocated for the Civil Rights Act to be passed and later the Voting Rights Act to be passed…I pray that you tune in, and I pray that you never forget and that you remember that these four little girls became agents of change. Because of their deaths, we have galvanized a generation, we've motivated a movement, and we've made the bitter days of Birmingham better." 
Four Girls Murdered in 16th Street Church Bombing
On Sunday, Sept. 15, 1963, Addie Mae Collins, Sarah Collins (Addie's sister), Cynthia Wesley, Carole Robertson, and Denise McNair, were getting ready for church in a basement restroom when a bomb made of dynamite went off at 10:22 a.m. All of the girls died except for Sarah, who lost her right eye. At least 14 other people were injured when the bomb went off on the east side of the building, destroying walls and filling 16th Street Baptist Church with smoke. Denise was 11 years old, Sarah was 10, and the other three girls were 14.
At the time, Birmingham (where Dr. Martin Luther King, Jr., wrote his "Letter from a Birmingham Jail") was highly segregated and the site of much racial violence. Alabama Gov. George Wallace was adamantly opposed to desegregation, the city's police commissioner Eugene "Bull" Connor was known for using violence against civil rights protestors, and the KKK was quite active. 
In fact, it was so common for the KKK to set off bombs throughout the city that it earned the nickname "Bombingham." Birmingham historian Horace Huntley says, "There were 40 plus bombings that took place in Birmingham between the late 40s and the mid 60s." These attacks, he says, were attempts from the KKK (with the backing of local authorities) to intimidate civil rights activists. Former National Security Advisor and Secretary of State Dr. Condoleezza Rice was a young girl in Birmingham at the time. She said that her father, a minister, organized a sort of militia with his friends to protect the Black community from the KKK. They could not trust the police because the police were just as likely as the KKK to be setting off the bombs.
16th Street Baptist Church was the site of many civil rights meetings and rallies during that time period, and it was common for marches to start from the church. The bombing that occurred there was the third that had happened within 11 days after a federal court ordered Alabama school systems to be integrated. Later named as suspects in the bombing were four men: Thomas Blanton, Robert Chambliss, Bobby Frank Cherry, and Herman Frank Cash. All were Klan members, and none were charged at the time. While some claim that the FBI withheld information, the FBI says the truth is that director J. Edgar Hoover believed there was not enough evidence to prosecute.
Eventually, three of the men were prosecuted. Chambliss was convicted of first-degree murder in 1977 and received life in prison, where he died in 1985. Cash died in 1994 without ever being charged. Blanton and Cherry were convicted of first-degree murder and each received four life terms in prison, Blanton in 2001 and Cherry in 2002. Cherry died in prison in 2004, while Blanton died in prison on June 26, 2020. 
Sen. Doug Jones led the prosecutions of Blanton and Cherry, and he attended 16th Street Baptist Church's memorial service last year. "We cannot forget what happened here in Birmingham," the senator told WVTM 13 News. "It is happening again across the country. We've seen a rise in hate crimes. And we just cannot allow that to continue to happen."
In a statement issued after Blanton's death this summer, Jones said, "The fact that after the bombing, [Blanton] went on to remain a free man for nearly four decades speaks to a broader systemic failure to hold him and his accomplices accountable. That he died at this moment, when the country is trying to reconcile the multi-generational failure to end systemic racism, seems fitting. Tommy Blanton may be gone, but we still have work to do."
In an April 2019 interview, Addie Mae Collins' surviving sister Susan Collins Rudolph told WBUR about the tragic morning when she lost her sister and her eye. Addie Mae was starting to tie Denise's sash when, "Boom, the bomb went off." A church deacon rescued Rudolph, and she assumed that the other girls had escaped. Later, when Rudolph was hospitalized, her mother told her what had happened.
It has been difficult for Rudolph to come to terms with how the city of Birmingham responded to that event and to her in the aftermath of the bombing. "The way they treated me here in the city of Birmingham, they don't acknowledge me as being the fifth little girl," said Rudolph. "You know, you go into church to praise God, and you come out without your sister. And today, we still haven't gotten an apology from the city of Birmingham. Nothing. Nothing. [We're] still paying bills for doctors for my eye."