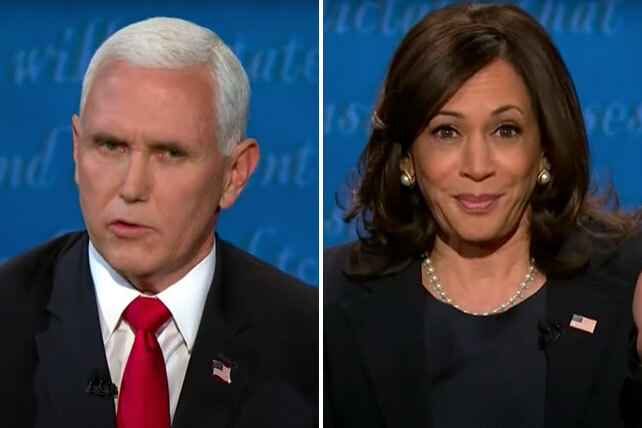 (RNS) — When the two major-party vice presidential candidates—a Black Baptist with Hindu heritage and a white, " born-again evangelical Catholic "—faced off on Wednesday night (Oct. 7), they largely talked past one another (and their moderator). But among their prepared arguments, Vice President Mike Pence and Sen. Kamala Harris discussed their differences on faith matters that Americans may be hearing about for the remainder of the campaign season.
Taking a stand on abortion
In a surprise, when the debate turned to an issue that often invokes faith—abortion—neither candidate initially invoked faith at all.
When moderator Susan Page of USA Today asked Pence whether he would want his home state of Indiana to ban all abortions if Roe v. Wade were overturned, the vice president pivoted to a lengthy discussion stemming from a previous question about the military defeat of ISIS.
Harris, for her part, reasserted her support for abortion rights when answering a similar question. "There is the issue of choice, and I will always fight for a woman's right to make a decision about her own body," she said. "It should be her decision, and not that of Donald Trump or the vice president."
It was only later that Pence circled back to the issue while answering a question regarding the Affordable Care Act. "I couldn't be more proud to serve as vice president to a president who stands without apology for the sanctity of human life," he said. "I'm pro-life. I don't apologize for it."
Judge Barrett and anti-Catholicism
While appeals to Catholics are often focused on their church's teachings, particularly on abortion, Pence used a question about President Trump's nomination of Judge Amy Coney Barrett to the Supreme Court to paint Democrats who oppose Barrett as anti-Catholic.
Pence quoted Sen. Dianne Feinstein's now famous line during a 2017 Senate Judiciary Committee hearing considering Barrett's nomination to the U.S. Court of Appeals, on which Barrett now serves. "The dogma lives loudly within you," Feinstein told the judge, referring to her writings emphasizing jurists' duties to their faith. Feinstein's accusation has been held up as an antipathy not to her legal reasoning but her faith itself.
The vice president also brought up two other moments when Harris, a former attorney general of California who serves on the judicial committee, sharply questioned Trump administration nominees, both of which might resonate with Catholics.
Pence first reminded the audience of Harris' set-to with Supreme Court Justice Brett Kavanaugh—a Jesuit-trained Irish Catholic—during his 2018 confirmation hearings. In a moment of tense drama, Harris repeatedly and forcefully asked Kavanaugh whether he would ask the White House to order an FBI investigation into Christine Blasey Ford's allegations that Kavanaugh had sexually assaulted her as a high schooler.
Pence then recalled another confirmation hearing, this one for Judge Brian Buescher for a federal district court seat in 2018, telling Harris on Wednesday night, "I know one of our judicial nominees you actually attacked because they were a member of the Catholic Knights of Columbus."
In fact, Harris asked Buescher whether he knew the views of the Knights of Columbus, a Catholic men's organization he belonged to, regarding same-sex marriage and abortion, seemingly attempting to elicit Buescher's own views on issues that may come before his court. But some Catholics and others felt her line of questioning was evidence of anti-Catholic bias.
---
Jack Jenkins contributed to this article.
This article originally appeared on ReligionNews.com.