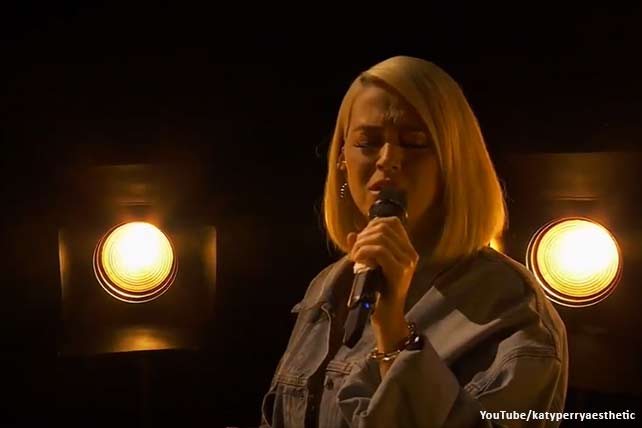 Singer Katy Perry, who was raised by Christian ministers, opened up her American Music Awards performance with the well-known hymn "As the Deer" written by Martin J. Nystrom and based on Psalm 42:1 before signing her song "Only Love."
Perry dedicated her performance to her father, posting on Instagram before the show, "tonight's @amas performance is for my father ♥️".
"Went back to church, met a new friend @dariusrucker and found #OnlyLove ♥️" the new mother posted.
The American Music Awards' winning singer's father is a pastor who, according to his website, travels with his wife throughout the U.S. and around the world encouraging people through preaching and the prophetic to reach for a deeper relationship with the Lord. Perry's parents raised her in a household where the terms "deviled-eggs" and "Dirt Devil" (vacuum cleaner) were banned.
In a Vanity Fair interview she said, "I didn't have a childhood. I come from a very non-accepting family, but I'm very accepting." She said of her parents: "We coexist. I don't try to change them anymore, and I don't think they try to change me. We agree to disagree. They're excited about (my success)."
Perry didn't instantly abandon everything she was taught growing up and didn't jump directly into the secular music industry. The "I Kissed A Girl" singer first attempted a career in the Christian music industry. She released her self-titled first album Katy Hudson in 2001 produced by DC Talk's bassist Otto Price on the independent Christian record sub-label Red Hill Records of Pamplin Music. The company included well-known Christian artists Natalie Grant, Bride, Aaron Sprinkle, and Jody Davis of The Newsboys. Despite promoting her album on the Strangely Normal Tour with The Newsboys' Phil Joel and up-and-coming band Earthsuit (MuteMath), the album failed to reach success and reportedly sold less than 200 copies.
A 2018 Vogue magazine interview touched on her relationship with God saying, "My mom has prayed for me my entire life, hoping I'd come back to God. I never left Him. I was just a little bit secular. I was more materialistic and more career-driven. But now that I'm in my 30s, it's more about spirituality and heart wholeness."
Earlier this year, Perry opened up about her battle with depression and suicidal thoughts, sharing that she had a complete mental breakdown after her 2017 split from her now fiancé Orlando Bloom. That split led her to thinking that taking her own life was the best way out. She attributes her relationship with God to saving her life.
If you or someone you know is thinking about harming yourself/themselves or attempting suicide, reach out to someone who can help right away. Call the toll-free, 24-hour hotline of the National Suicide Prevention Lifeline at 1-800-273-TALK to be connected to a trained counselor at a suicide crisis center nearest you.