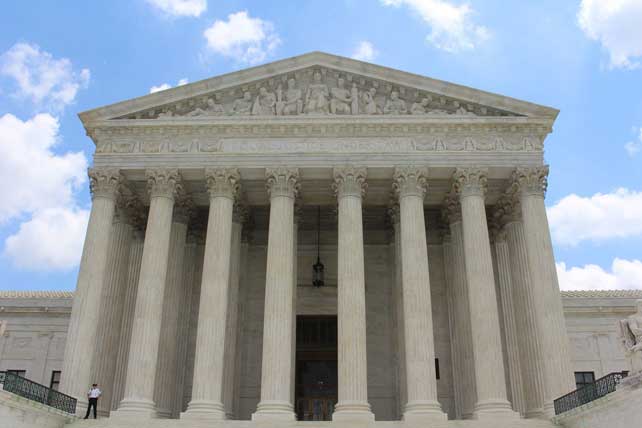 On Wednesday November 25, 2020 the Supreme Court ruled 5-4 in favor of houses of worship, thereby blocking Governor Andrew Cuomo's coronavirus restrictions that only allowed a maximum of 10 people for worship services. There was no evidence that the houses of worship that filed the lawsuit have contributed to the spread of COVID-19, the court said.
The requests were made by Roman Catholic Diocese of Brooklyn and two Orthodox Jewish congregations that dated October 6, 2020.
Newly appointed judge Amy Coney Barrett sided with other conservative judges ruling that the New York Governor restrictions were a violation of the First Amendment.
Governor Cuomo's restrictions were ordered at a time when the requesting churches where in a "red zone" due to the spike in COVID-19 cases. The Governor said in a call with reporters Thursday, "It's irrelevant from any practical impact because the zone that they were talking about has already been moot. I think this was really just an opportunity for the court to express its philosophy and politics." Cuomo claimed the ruling wouldn't have impact on current restrictions, and those restrictions don't apply at the moment because that area is no longer in a "red zone."
Roman Catholic Diocese of Brooklyn's attorney Randy Mastro said, "We are extremely grateful that the Supreme Court has acted so swiftly and decisively to protect one of our most fundamental constitutional rights—the free exercise of religion."
Agudath Israel of America's attorney Avi Schick said, "This is an historic victory. This landmark decision will ensure that religious practices and religious institutions will be protected from government edicts that do not treat religion with the respect demanded by the Constitution."
Conservative Supreme Court Chief Justice Robert sided with those not in favor of the houses of worship writing in his dissent, "Numerical capacity limits of 10 and 25 people, depending on the applicable zone, do seem unduly restrictive. It is not necessary, however, for us to rule on that serious and difficult question at this time."
Although the Supreme Court has reached a decision on this case, the case is still ongoing in the Second U.S. Circuit Court of Appeals. Oral arguments are scheduled for December 18th.
Executive director of the New York Civil Liberties Union Donna Lieberman said, "New York's temporary restrictions on indoor gatherings do not discriminate against houses of worship, and, in fact, treat them better than comparable non-religious gatherings," adding that "The Supreme Court's decision will unfortunately undermine New York's efforts to curb the pandemic."
Early this year the Supreme Court has turned away similar requests from churches in California and Nevada.