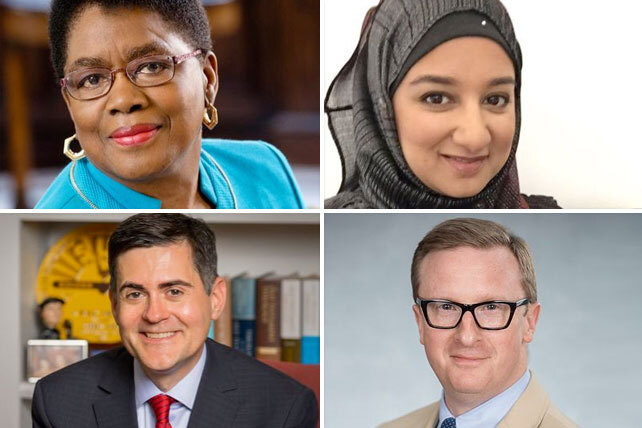 If Americans are to have any hope of overcoming our deep polarizations, people of faith must be willing to cooperate with one another where they can, even when they strongly disagree on some issues. So said a panel of four faith leaders, including Dr. Russell Moore, in a webinar Thursday on faith and politics under Biden presidency. 
"My primary concern is about what this overwhelming sense of political identity and division, what that does to people," said Moore, who is president of the Ethics & Religious Liberty Commission of the Southern Baptist Convention. "And some of the divisions that we see going on in our country right now are proving to not just be dangerous, but also exhausting. And I mean that in the literal sense of the word." Going into the New Year, one of the top priorities of believers should be not to fall into the "overwhelming identities" that often define us instead of our affiliation to Christ. 
"Religion cannot be another form of politics," said Moore, "and politics cannot be another form of religion. Religion, in my case the gospel of Jesus Christ, cannot be a means to any end. This has to be the end."
Faith and Politics: Americans Are Deeply, Dangerously Divided
The webinar on faith and politics, entitled "Moving Forward with Faith – Religion and Politics in a Biden Presidency Confirmation," was sponsored by AP News, Religion News service (RNS), and The Conversation US. The panelists included three Christians of different backgrounds and one Muslim; the purpose of the discussion was to explore faith leaders' top priorities, concerns, and expectations for faith under a Biden presidency. Joining Dr. Moore on the panel were Dilshad D. Ali, Dr. Steven P. Millies, and Dr. Barbara Williams-Skinner.
In her opening comments, Dr. Williams-Skinner focused on the stark differences the recent presidential election highlighted between white evangelicals and Black Protestants, differences that are all the more striking because both groups essentially claim the same beliefs. Yet when we look at how each group voted, said Williams-Skinner, it's "almost as though they're serving a totally different God."
Williams-Skinner said that she and many African Americans were "just shocked" that white evangelicals overwhelmingly voted for Trump, whom she described as, not just a fraud, but "evil." She said, "The thought that people who say they follow Jesus, who is committed to the least of these from a Matthew 25 sense and who called us to love our neighbors as ourselves could have the audacity, not only to embrace [Trump] once, but almost at the same level again…It is hard to believe that, again, we serve the same God."
While the two groups agree on issues such as abortion and marriage, they face significant problems with communicating with each other over racial issues. Williams-Skinner said she was deeply disappointed that the white evangelical church did not see Trump's Muslim travel ban and the recent rise in hate crimes as deal-breakers for voting for him. "I just do not understand," she said. "On issues of justice, it's like night and day. We're not even talking. We're not even communicating." 
Other Panelists Weigh In on Divisions
Ali, who provided a Muslim perspective on faith and politics, echoed what Williams-Skinner shared about the concerns minorities in the U.S. had about Trump being re-elected. Muslims voted in record numbers this election, she said, and the majority did not so much vote for Biden as they voted against Trump. Ali believes that "there's a lot of undoing that has to happen" from Trump's time in office and also wonders, "Will the same interfaith alliances hold for the next four years?" 
Several of the panelists pointed out there were deep divisions, not just among Americans in general but also within their own faith communities. This idea was something Ali alluded to as well. She noted that while Islam is a major world religion and a force to be reckoned with, there are diverse communities of Muslims and they do not always agree. 
Dr. Millies, who shared from his perspective as a Roman Catholic and political scientist, also highlighted the disunity in the U.S. in general and among Catholics specifically. "Religion was never more divisive I think in American politics than it was during the 2020 campaign," he said, "and Catholics have never been more divided than we are now, at least in American history."
We can see how these divisions over faith and politics have increased over the past six decades when we consider the Catholic response to John F. Kennedy. Catholics leaders generally embraced and supported him, but they responded more negatively to John Kerry in 2004 and even more negatively this year to Biden. The differences among Catholics primarily concern abortion, said Millies, but also include disagreements over marriage equality, contraception, and religious liberty. He agreed with Moore's assessment that the divisions among Americans are fatiguing. "The Catholics in the pews are more and more exhausted," he said.